ALL NEWS
Russia U17 speak about the Four Nations in Switzerland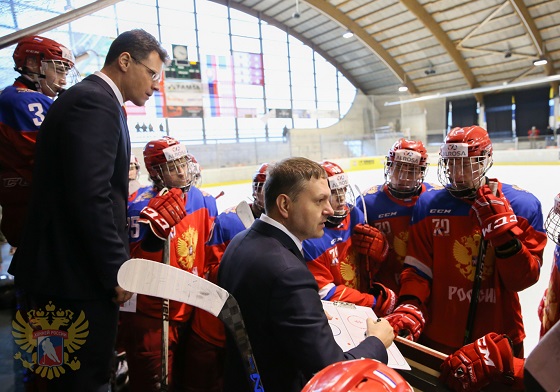 Russia U17 head coach Igor Efimov:
- It was a tough game against Slovakia. Things went well for us at the start, we should really have won. Slovakia had one good chance in the first period, and they took advantage of it. In the second period, we missed a lot of chances again. Unfortunately, in the third frame, we started taking a number of penalties after taking the lead. They equalised, and then later on, they scored the winning goal with a shot from the blue line.
It was an interesting tournament, we're happy that we managed to play against the Americans. Despite the USA being a strong team, we could have beaten them. Losing two out of three matches, it's a disappointing result. Nevertheless, the guys now know that they have to work even harder. These defeats have helped us see what problems we have. When we played America, we were lacking players. Some went to the Challenge Cup in Canada, while others were ill. We especially missed Andrei Svechnikov. We're counting on him for the future. We will search for extra forwards in preparation for the Five Nations in the Czech Republic.
After having an illness, Alexander Khovanov didn't play as well as he can. Grigory Denisenko had an injury. They tried their best, but it didn't go that well. We would like Andrei Svechnikov to play in the home Four Nations next year, however at the same time the World under 18 Championship will take place. We wish Andrei good luck with that team! Our two main goalkeepers are Amir Miftakhov and Daniil Isaev. Amir was great at the Youth Olympics and in Canada, he did well at this competition too. We will look forward to the future.
Russia U17 forward Alexander Khovanov:
- We didn't perform well at this tournament. The team wanted to win, but we didn't play as well as we are capable of. Sadly, we failerd to gain revenge over the Americans for the loss at the Youth Olympics. We take too many penalties, we lost that game because of our own mistakes. I am still disappointed about the defeat to Slovakia. Now, we have to play well in our respective clubs. There is no guarantee that you will be picked for the national team. Every day, we have to work hard and prove ourselves.
Russia U17 forward Alexander Zhabreev:
- It was a poor tournament. Against the USA, maybe we were a bit tired. In the third game, we failed to take advantage of our chances. I would have liked to play better, I played with Vladislav Kotkov and Nikita Rtischev.
Russia U17 goalkeeper Amir Miftakhov:
- I played two games at this tournament, I think that I could have done better. Is it hard to watch from the bench? I stil wanted the team to beat Slovakia, it doesn't matter if I am playing or not. Their goalkeeper played well in that particular game, they got a bit lucky too. Both of the next upcoming tournaments at home and in the Czech Republic are important for us.
Russia U17 defenseman Anton Malyshev:
- We were a lot better than the Swiss in the opening fixture, despite the fact that we conceded a goal. We started well against America too, but then we began to take too many penalties. Physically, the USA are stronger than us, but we still gave them a tough game. The team was unlucky in the match with Slovakia, we had lots of chances to score. Personally, I tried to play physical. My defensive partner Artemiy Knyazev is a year younger than us, however he tried his best. We found common ground easily. Right now, we are all tired, but there are some club games coming up.
Russian Ice Hockey Federation