ALL NEWS
Russia U17 are continuing to prepare for the Four Nations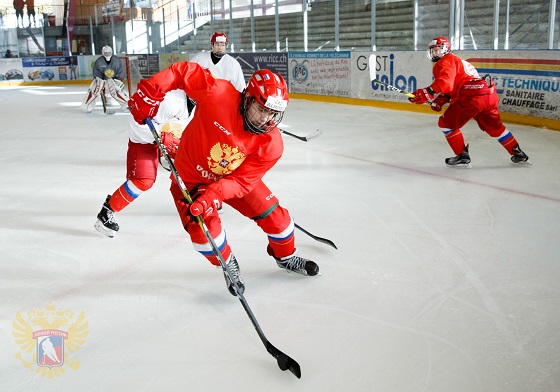 The under 17 Russian national team are continuing to train in Switzerland ahead of the upcoming Four Nations. Today, they worked out in these following lines:
Goalkeepers: Miftakhov, Shiyanov.
Reds: Malyshev, Knyazev - Denisenko, Khovanov, Sholgin.
Whites: Solopanov, Kalinichenko - Sokolov, Denezhkin, Rotenberg.
Blues: Brinkman, Misyul - Kotkov, Zhabreev, Rtischev.
Greens: Babintsev, Drobin - Zinovyev, Koreshkov, Nestvetaev.
Russia U17's first game at the Four Nations will take place tomorrow at 19.30 local time. There will be a live broadcast.
Russia under 17 head coach Igor Efimov:
- This was our second training in Switzerland after arriving yesterday. The facilities here are great, that includes the ice, the hotel and the food. The weather is excellent too, it's sunny and the temperature is +10. In Novogorsk, Pavel Rotenberg and Alexander Khovanov joined up with the group. Pavel will into his usual line with Maxim Denezhkin and Yegor Sokolov, they play well together. Alexander Khovanov, Grigory Denisenko and Andrei Svechnikov generally play in one line, but Andrei, as well as Nikita Okhotyuk and Danila Galenyuk, are away with the under 18's. Andrei Sholgin will play in the next match. We're rotating the squad, we can change things after or even during matches.
We decided to give goaltender Timur Shiyanov a chance, he did well at the Novogorsk training camp. He's trying his best, I think that we will give him an opportunity to play at this tournament. Yesterday, we watched Switzerland and the USA play each other. America won 4:2, overall it was a good game between solid teams. The Swiss have Canadian coaches.
Russia under 17 forward Alexander Khovanov:
- Yesterday's training was tough, we had only just arrived here after a three hour flight and a two hour long bus ride. Nevertheless, everything gave their all. Today, we feel a lot better and worked out at an intense pace. Before flying here, I had been ill for a week, but now everything's fine. I haven't long been skating after that illness. Today, Andrei Sholgin played in my line with Grigory Denisenko. It was great, we immediately found mutual understanding. Tomorrow, we will play against Switzerland. The coaches have already told us that they are quick and technical. Also, our goalkeeper Timur Shiyanov, who plays in Switzerland had mentioned that they have a strong netminder and a few classy players. This evening, we will look over the video tape. We're looking forward to the fight.
Russian Ice Hockey Federation