ALL NEWS
Еvgeny Bobariko: "We will treat all opponents the same way"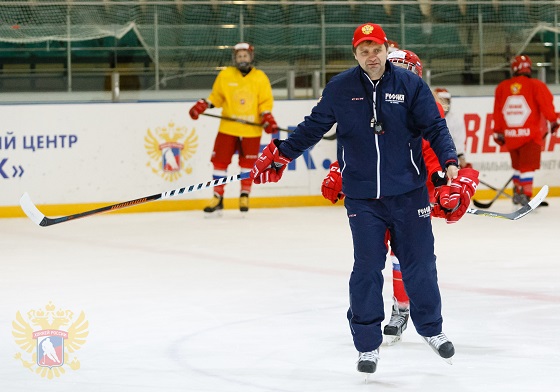 In Novogorsk, the Russian junior women's national team held an open day before leaving for the World Championship in the Czech Republic on the 5th of January.
Russian junior women's team head coach Evgeny Bobariko:
- In the next two days, we will play two friendly matches which will decide who will travel to the World Championship. Four lines and three goalkeepers will be included, around three positions are yet to be decided. In comparison to Dmitrov, the same players are here. However, the players are working a lot harder, they want to win a medal.
- The tournament's first two matches will take place against the USA and Canada.
- Never mind, we have to play against everyone. We don't separate strong and weak opponents. We will play to win every game.
Russian women's junior national team goalkeeper Valeria Merkusheva:
- At this training camp, the main thing is to train and gain experience before the tournament begins. The camp began on December 26th, we have already worked well both on the ice and in the gym. Last year, I took part in the World Championship, but I only played in two periods against Canada and the USA.
- How serious is the competition within the team?
- We all have a good relationship, we're supporting each other.
- What does this World Championship mean to you?
- We are a team which wants to win for its country. I really want to play against the USA and Sweden. Our goal is to win!
Russian Ice Hockey Federation