ALL NEWS
Interviews after winning bronze at the Women's World Junior Championship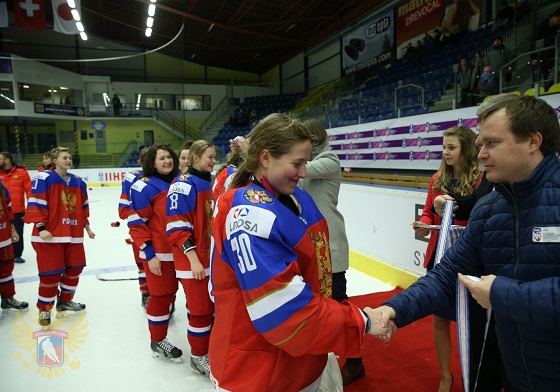 Russia W18 defender Nina Pirogova:
- Having started the match poorly, we spoke in the break and changed our game. We started attacking more, in the second period we outshot the Swedes 13-1. Finally, in the third, we scored.
- How did you feel as captain?
- It was my final World Junior Championship, I felt a lot of responsibility. I tried to be a leader in every game.
Russia W18 goalkeeper Valeria Merkusheva:
- I am really happy that we won, I have so many emotions! It was tough for me in the third period, Sweden attacked a lot and I did everything that I could. It's fantastic, everyone is calling and sending messages to me. My parents sent me the first message, saying that we did a great job.
- How did the chaos against the Czech Republic affect the team?
- That situation fired us up even more. It's really good that we managed to take a medal.
Russia W18 forward Oksana Bratischeva:
- I am happy that we won the bronze, it's my first medal at international level. I have only positive emotions! I can't even describe just how happy I am.
- You missed the semi-final because of suspension.
- That gave me even more motivation. I was really annoyed that I was given a one match suspension, today I wanted to show my potential. I can say that I gave my all and now I can have a rest.
- Did you feel that you had a united team?
- Yes. At every game during this tournament, we became even more of a solid group, the girls fought for each other. We understood how important this match was.
- What were the differences between this match and the group stage fixture with the Swedes?
- This match was more important. We're happy that we have won bronze!
Russia W18 defender Elena Provorova:
- This was my first World Championship. We have the best team, I have lots of happy emotions!
- Speak about your goal.
- Alyona Starovoytova fed me a pass, I had a chance and decided to shoot. It's really nice that the coaches trust me, I am the youngest in this team. I tried to prove my worth, improving in every game.
Russian Ice Hockey Federation