ALL NEWS
Interviews after the under 17 Five Nations tournament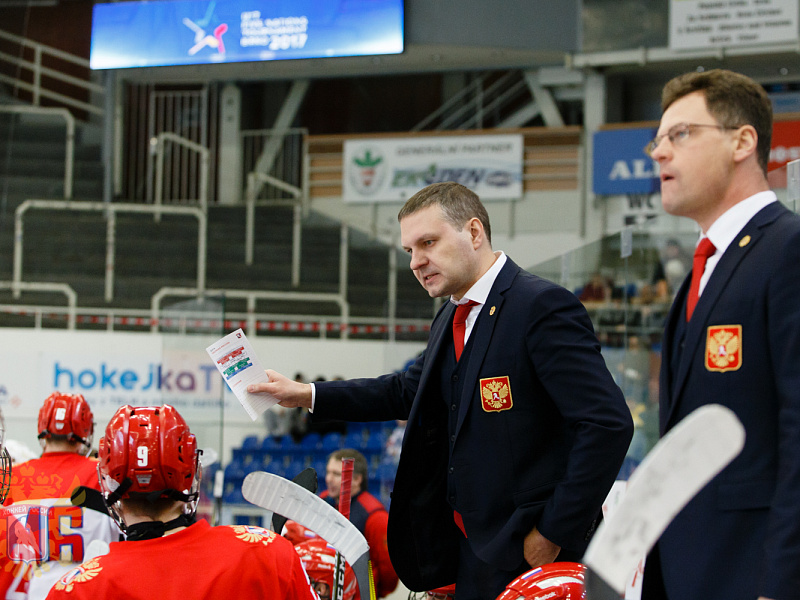 Russia U17 head coach Igor Efimov:
- In the third match, we only had three lines, The guys were tired, but we stuck to the game plan until the final two minutes where we conceded a couple of goals. Captain Alexander Khovanov was sent off after that, however he simply failed to keep a lid on his emotions after an opposition player hit him with his stick. Anton Malyshev received a serious injury, his back feel into the boards. Overall, our team fought hard during this tournament, they did what we wanted them too. Alexander Khovanov played this match practically on one leg, while Pavel Rotenberg, despite having a serious elbow problem, played. I wouldn't say that we deserved to come fifth, we conceded less goals than everyone else.
Russia U17 forward Alexander Khovanov:
- We played well, but fell apart in the final two minutes. We conceded those two goals because we failed to keep our patience, there was little time remaining.
- What happened for your penalty?
- Knowing that I had an injury, a Czech player slashed me with his stick and I couldn't keep my emotions together.
- How would you summarise the competition?
- All of the matches which we lost seemed to be going our way, however we relaxed a bit too much and luck turned against us. Nevertheless, we played better than other teams in some games. Sweden, a team which became champions, were thrashed by us. The main conclusion is that we have to keep on playing until the buzzer sounds. Now, we need to prepare for the next tournament which will take place at home.
Russia U17 forward Grigory Denisenko:
- Losing, I cannot say anything positive. After leading for the entire game, we contrived to concede two late goals. It's a real shame, however the only thing that we can do is to continue training and not give up. We committed individual mistakes for the Czech goals. All of our players were pumped up for this game, they fought until the end, but we cannot change anything now. For the second Czech goal, the player was on the goal crease, however he didn't touch the goalkeeper it was a clean marker.
We conceded less goals than all other teams. In the future, we will have to make better use of our goalscoring chances.
Russian Ice Hockey Federation