ALL NEWS
Russian senior women's national team media day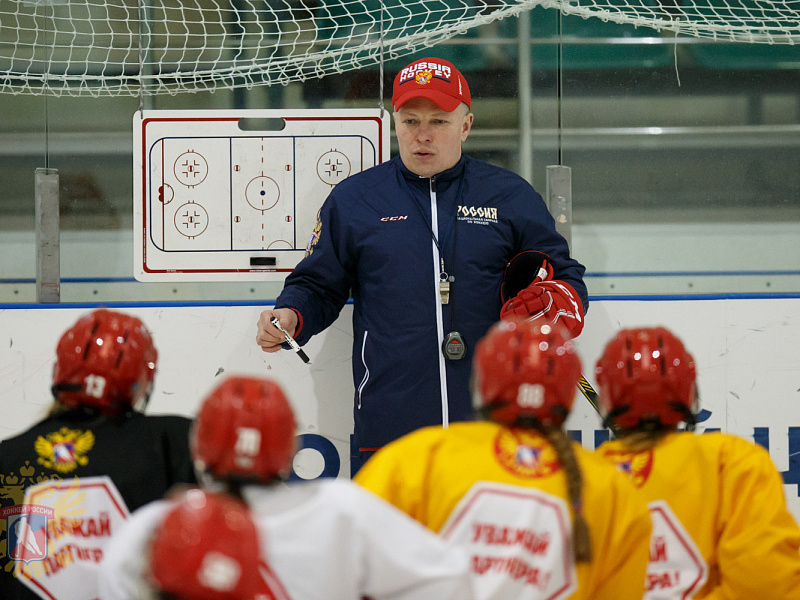 In Novogorsk, the Russian senior women's national team held an open training session for the media ahead of the 2017 World Championship. The team will leave for the tournament in the USA on March 24th.
The team trained in these following lines:
Goalkeepers: Sorokina, Morozova, Alexandrova, Tarakanova.
Batalova, Shibanova - Sosina, Smolentseva, Skiba;
Goncharenko, Pirogova - Shtaryova, Dergachyova, Sosina;
Schukina, Lobova - Malyavko, Dyupina, Kadirova;
Chistyakova, Ganeeva - Mitrofanova, Starovoytova, Shatalova;
Chizhova, Koshevaya.
Russian senior women's national team head coach Alexei Chistyakov:
- All of the girls are putting in a full effort, no one is holding back. I think that we have achieved the goal which we had in mind for this training camp. It's very important that we have had the opportunity to train on a North American sized ice rink for the World Championship. When I was preparing for a World Junior Championship, we did the same and it helped us. Hopefully, that will be the case this time around. Our goal for this tournament is to win a medal. Following a minor injury, forward Lyudmila Belyakova is recovering and will be ready in a couple of days. There will be changes made to the roster, we will play a friendly match tomorrow and will then make a final decision concerning our final team. Alexandra Vafina and Iya Gavrilova will join the side in the USA.
Russian senior women's national team defender Angelina Goncharenko:
- We were a bit tired after the Russian championship, but the coaches have helped us recover and now we feel fine. We want to win and earn a medal. I think that the USA will play at the competition, despite them saying that they wanted to boycott it. We want to play well against them and take a medal away from the tournament.
Russian senior women's national team forward Lyudmila Belyakova:
- Having picked up an injury, I am in the process of recovering. I think that I will be able to fully compete in the near future. Everyone is on a good mood, we trained in the morning and evening, skated on the ice two times and also worked out in the gym. I have had experience of playing in America, and Alexandra Vafina and Iya Gavrilova wil join the team in America. They understand North American ice hockey well. All of our team have played against the Americans and Canadians a few times.
Russian senior women's national team defender Nina Pirogova:
- I am a bit tired, but we have been working hard in the gym and will be 100% ready for the World Championship. The experience of training on the smaller ice will help us get into shape, Canadian sized ice rinks are a lot smaller than ours. We achieved a good result last year, but we want to improve on that and move forward. We will try to get the best medal we can.
Russian Ice Hockey Federation