ALL NEWS
Russia train ahead of facing the Czech Republic in Moscow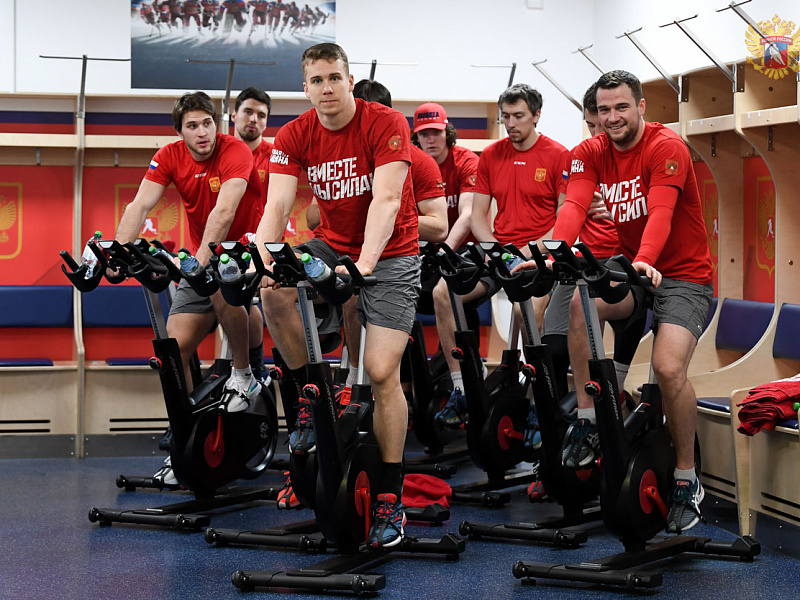 The senior Russian national team held a training session at the Legends Park in Moscow on Friday ahead of the second match of the 2020 Channel One Cup against the Czech Republic.

The competition is the second stage of the 2020/2021 Euro Hockey Tour.

Only goalkeepers Alexander Samonov, Ivan Fedotov and Daniil Tarasov, defensemen Dmitry Yudin, Viktor Antipin, Danila Galenyuk, Dmitry Samorukov and Artyom Minulin and forwards Alexander Kadeikin, Yegor Korshkov and Sergei Tolchinsky trained on the ice, while the rest of the team worked out in the gym.

Tomorrow Russia will face the Czechs in the Russian capital at 15:30 local time.

Forward Anton Burdasov:

- Today we worked out in the gym after our tough match on Thursday. The main thing is that we were patient yesterday and managed to win, it was a really difficult battle with the Swedes. With regard to tomorrow's match, I think that it will be a different game, the Czech Republic like to make more technical plays. We'll analyse the video footage, correct our mistakes and see how we can play better.

- How did the decision made by the Court of Arbitration for Sport's (CAS) decision affect your mindset for the game with Sweden?

- It was a predictable decision. However, we always know that we are playing for Russia, the same can be said for the supporters and fans from other countries. We will play and win for Russia! As the last Olympics showed, such a decision only succeeds in making us more determined as a team. We proved in South Korea that we are an ice hockey superpower.

Forward Vadim Shipachyov:

- Not everyone skated today, the majority of us worked out in the gym. We trained well.

- What do you think about the decision made by the CAS?

- Such a decision is something which we have already experienced. In 2018 it made us even more hungry to win, we all know what country we are playing for and representing on the ice. Yes, the flag won't be there, but we understand everything. There is no use in paying attention to difficulties. In games, the main thing is to remain fully focused on the job at hand, we will fight for Russia. We can only discuss matters concerning ice hockey itself.

- Share your expectations concerning the match against the Czech Republic.

- We will soon fully analyse how the Czechs play. We know a lot of their players, though, they compete in the KHL like us. I know that Dmitrij Jaskin is a great player, for example!