ALL NEWS
The RIHF and Liga Stavok have created the "Ice Hockey Heroes" award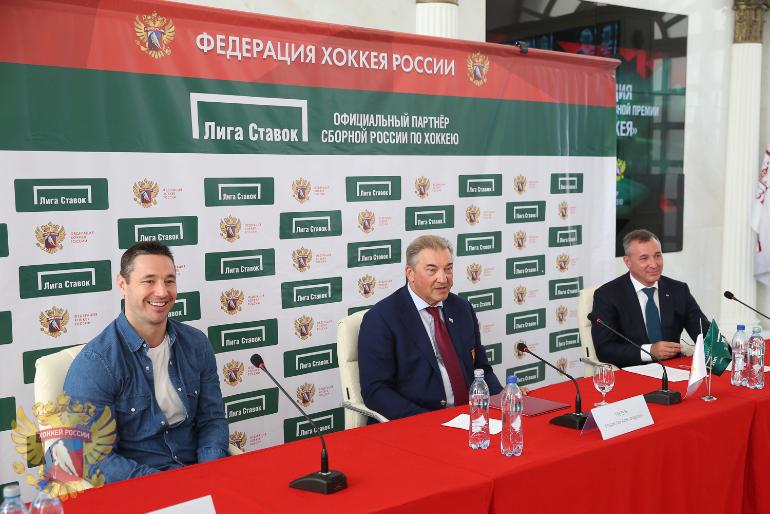 On August 31, a press-conference between the Russian Ice Hockey Federation and Liga Stavok took place at the Ice Hockey Museum in Moscow. RIHF president Vladislav Tretiak and Liga Stavok president Yury Krasovsky participated in the event.

It was announced that "Ice Hockey Heroes" awards will be handed out at a special ceremony on November 6, 2018. It's a joint project created by the Russian Ice Hockey Federation and Liga Stavok.

Fans, journalists and Russian national team players and coaches will pick the award winners.

National team forward Ilya Kovalchuk has also become the Liga Stavok ambassador.

RIHF president Vladislav Tretiak:

- Since 2016, we have cooperated with Liga Stavok, and so far we've worked well together with excellent results. We signed an agreement for the Channel One Cup, subsequently won that competition, and then we claimed Olympic gold in February 2018. Liga Stavok are one of our most important partners with huge potential. It's nice that they are very serious about our projects, especially the Red Machine National Ice Hockey Development Program.

Liga Stavok president Yury Kraskovsky:

- We are doing everything to make ice hockey more popular among our population. We want more local ice rinks, more modern ice hockey technology and comfortable facilities for training. We're eager for ice hockey to be the people's game, not just for the elite.