ALL NEWS
Friendly match. CSKA-2000 - Russia U17 - 2:3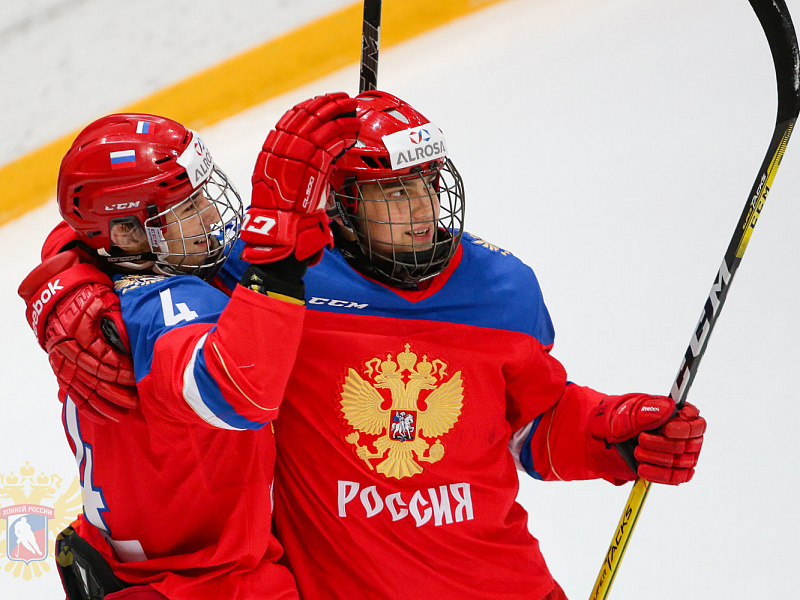 In preparation for the Challenge Cup, the under 17 Russian national team played a friendly match against a CSKA-2000 side in the capital.
On the smaller ice organised for the Russian players, our team proved to be stronger. Goals from Alexander Khovanov, Bogdan Zhilyakov and Roman Kalinichenko gave Russia a three goal lead, and despite a CSKA comeback, they held on to win 3:2!
Interim Russia under 17 head coach Igor Efimov:
- Despite the match being a friendly one, both teams played the game seriously, there was even a fight. Overall, I enjoyed our performance, especially at the start. The players gave everything, and in turn, gifted us some important information.
We played all three goalkeepers, with one competing for CSKA after an agreement with the club. I was disappointed with the penalties that we took, but we asked the referees to be strict against our players. It was important to see how our special teams work. We've had four days of really hard work, it was good to find out how the players can compete when tired. Tomorrow we will have a rest and look at the tape from this match. The team is in a great mood, everyone understands that a very interesting tournament is coming ip.
Alexander Khovanov, Russia under 17 captain:
- It was a good game, we managed to win and work on some training moves. Despite it being a training game, the guys gave everything. At first, it was strange playing on the smaller ice, it was a new experience for me. Here, you have to shoot more rather than make passing plays. It's good that we know what to expect before travelling to Canada, where we will train for a week.
Match protocol:
CSKA-2000 - Russia U17 - 2:3 (0:1, 1:2, 1:0)
Goals:
0:1 Khovanov (Denisenko, Zhilyakov), 06.03
0:2 Zhilyakov (Drobin, Denisenko), 22.05
0:3 Kalinichenko (Khovanov, Denisenko), 25.07
1:3 Sorkin (Komissarov, Bilyalov), 38.25
2:3 Sorkin (Bilyalov), 53.07
Goalkeepers: Rybalkin/Isaev - Miftakhov/Dubrovsky
Penalty minutes: 22 - 28
18.10.2016.
Russian Ice Hockey Federation