ALL NEWS
The senior national team's open day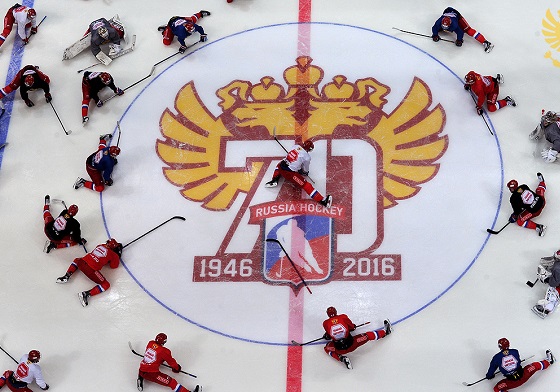 Inside the Legends Park main arena, the senior Russian national team held an open training session for the media. The players trained in these following lines:
Goalkeepers: Sorokin, Shestyorkin, Bobkov;
Whites: Belov, Yakovlev - Kovalchuk, Datsyuk, Plotnikov;
Reds: Kiselevich, Ozhiganov - Nichushkin, Svetlakov, Telegin;
Blacks: Antipin, Beloglazov - Kugryshev, Tkachyov, Barabanov;
Blues: Gavrikov, Osipov, Lyubushkin - Shumakov, Shalunov, Andronov, Sannikov.
Roman Rotenberg, RIHF first vice-president:
- Our targets for the Channel One Cup are the same as the other teams - victory.
We will discuss Euro Hockey Tour reforms with IIHF representatives who will arrive in Moscow tomorrow to see at which level this tournament is hosted. Taking into account last season, we had solid attendances for matches even when Russia didn't play, unlike the Karjala Cup. It would be a good idea to include the Russian Olympic team in this competition, but at the moment, there is no final decision concerning that matter. However, I can say that in April, we will hold an Alrosa Cup where the Olympic team will compete.
I would also like to point out, that we are trying to incorporate the World Cup of Hockey experience here. This includes work with the media. We are constantly communicating with Bill Daly from the NHL, we have been discussing the possibility of our clubs playing with each other. In the near future, we are expecting their reply about NHL players taking part in the 2018 Olympic Games.
Oleg Znarok, Russian national team head coach:
- We decided not to bring Vadim Shipachyov and Evgeny Dadonov. Unfortunately, Nikita Gusev picked up an injury. Igor Ozhiganov is fine, he isn't injured. We don't know who will be our number one goaltender, but we have decided that Pavel Datsyuk will be our captain.
All candidates were analysed, including Zakhar Arzamastsev, however we decided to make it an optimal roster. Other players who play good ice hockey will be given their chance in the future.
The fact that we will play the first two games in a row will not have an effect on the result. The guys have had a few days rest before they came here, tomorrow they should look fresher.
Ilya Kovalchuk, Russian national team forward:
- Last year, it was disappointing to finish in fourth place of the Channel One Cup. Nevertheless, it's great that we have a chance to make up for that showing. I hope that everything will go a lot better this time around.
Pavel Datsyuk, Russian national team forward:
- Despite being named captain, a lot of our players were ready to be the leader. I feel responsibility before the fans. If we talk about choosing SKA's young players, then this is the coach's business, I shouldn't talk about that.
Russian Ice Hockey Federation