ALL NEWS
Cup of the Future. Belarus U20 - Russia U18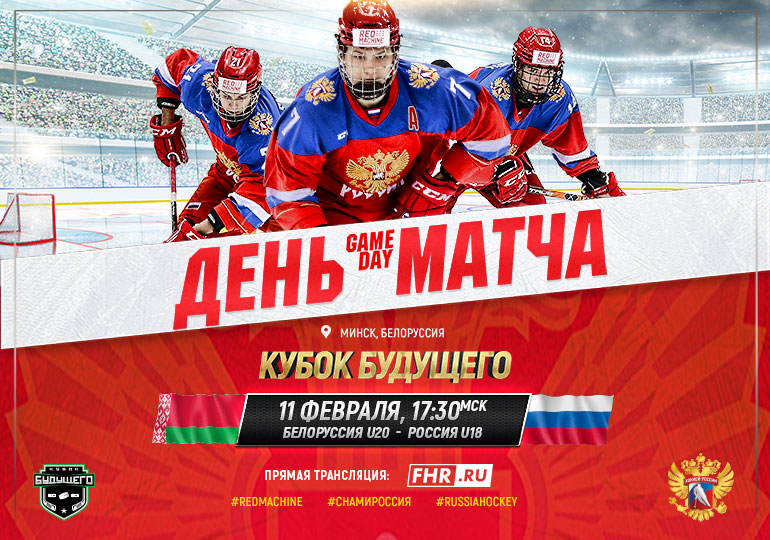 Today, at 17:30 Moscow time, the under 18 Russian national team will face Belarus U20 in the concluding match of the Cup of the Future.
Russia U18 suffered a defeat in their maiden game of the competition yesterday, losing 2:4 to the under 17 Russian national side. However, in the second, our players thrashed Kazakhstan U20 9:0.
These following players have been picked for this tournament:
Goalkeepers:
Yegor Zavragin (Yugra), Nikolai Nikulshin (Lokomotiv), Denis Utenkov (Torpedo).
Defensemen:
Nikita Baklashyov, Igor Verbitsky, Artyom Kudashov, Mario Patalakha (all Dynamo Moscow), Ivan Yershov (Severstal), Nikita Ishimnkov (Avtomobilist), Artyom Karpov (Lokomotiv), Ivan Remezovsky (SKA), Tikhon Shakalov (Spartak), Artyom Shchuchinov (Traktor).
Forwards:
Matvei Babenko, Alexander Filippov (both Salavat Yulaev), Maxim Velikov, Yegor Solovyov (both CSKA), Dmitry Vlasenko, Timur Mukhanov, Yegor Yadykin (all Avangard), Alexei Zaitsev, Matvei Maximov, Igor Cheryshov (all Dynamo Moscow), Radel Zamaltdinov (Ak Bars), Mikhail Ilin, Yegor Smirnov (both Severstal), Ivan Ryabov (Krylya Sovetov), Nikita Susuev (Spartak).
LIVE BROADCAST