ALL NEWS
Channel One Cup. Sweden - Russia - 3:1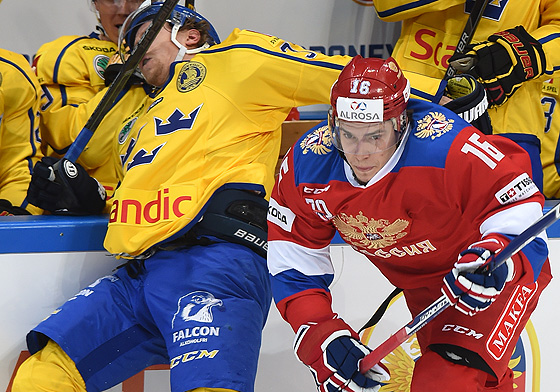 The senior Russian national team began their Channel One Cup campaign against Sweden in Moscow. Head coach Oleg Znarok opted to install Ilya Sorokin in net, while SKA Saint Petersburg trio of Pavel Datsyuk, Ilya Kovalchuk and Sergei Plotnikov were all in the first line. Swedish goaltender Viktor Fasth was one of five Sweden KHL players.
Inside an expectant Moscow Ice Palace, Russia came flying out of the blocks. Our players were visibly pumped, crashing the Swedish net at any given opportunity. Eventually, it resulted in a goal – on the powerplay, Vladislav Gavrikov tapped into the net up close. Riding high on emotions, our players were making life difficult for the Swedes. Plenty of chances came and went, and had it not been for some superb Viktor Fasth saves, Russia could have been out of sight in the first period.
However, Sweden did improve in the second stanza. The visitors were having more joy inside Russia's zone, forcing Ilya Sorokin into alert stops. For their part, Russia were largely relying on counterattacks, searching for another goal. The Swedes didn't allow our players to have so many clear openings though, and as the period was drawing to a close, they got back on level terms – Oskar Lindbolm's sneaky pass took a wicked deflection, fooling Ilya Sorokin.
Unfortunately, in the third period, Sweden's control over the match continued. As time rolled on, the visitors were preventing Russia from creating anything, calmly clearing their lines in defence. They were threatening on the breakaway too, drawing three penalties out of our players. Russia killed all of them, but, sadly, with only a minute on the clock, Sweden snatched the winning goal – Linus Omark's clever feed was pounced upon by Simon Bertilsson. An empty netter from Andreas Thuresson completed proceedings, condemning Russia to a 1:3 defeat.
Match protocol:
Sweden – Russia – 3:1 (0:1, 1:0, 2:0)
Goals:
0:1 Gavrikov (Shumakov), 08.55
1:1 Lindbolm, 37.59
2:1 Bertilsson (Omark), 58.59
3:1 Thuresson, 59.34
Goalkeepers: Fasth – Sorokin
Penalty minutes: 4 – 6
15.12.2016. Moscow Ice Palace, Moscow.
Russian Ice Hockey Federation