ALL NEWS
Channel One Cup. Russia - Czech Republic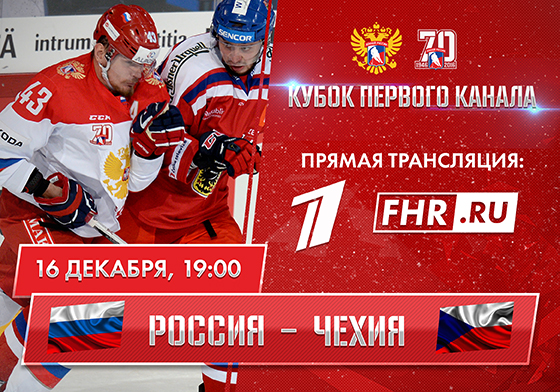 Today on the 16th of December, the senior Russian national team will play against the Czech Republic for the second match of the Channel One Cup.
It was a disappointing opening to the tournament yesterday, as despite Vladislav Gavrikov netting an early goal, our players lost 1:3 to Sweden. Nevertheless, that loss will only spur on team on to perform even better today.
The Czech Republic, who also lost their first game to Finland 2:4, have a grand total of ten KHL players in their squad: goaltenders Dominik Furch (Avangard Omsk) and Pavel Francouz (Traktor Chelyabinsk), defensemen Adam Polasek (Sibir Novosibirsk), Jakub Jerabek (Vityaz Podolsk) and Michal Jordan (Ak Bars Kazan) and forwards Vladimir Sobotka (Avangard Omsk), Lukas Radil (Spartak Moscow), Roman Horak (Vityaz Podolsk), Tomas Zahorna (Amur Khabarovsk) and Jiri Sekac (Ak Bars Kazan).
At the Karjala Cup, Russia got the better of their Czech opponents 3:0. Ilya Sorokin tallied up a shutout in that game.
The Russia - Czech Republic match will begin at 19.00 local time inside the Moscow Ice Palace, Moscow. Match Igra will broadcast live, and you can follow events by subscribing to our official Twitter account.
Russian Ice Hockey Federation