ALL NEWS
Tickets for the VHL Russian Classic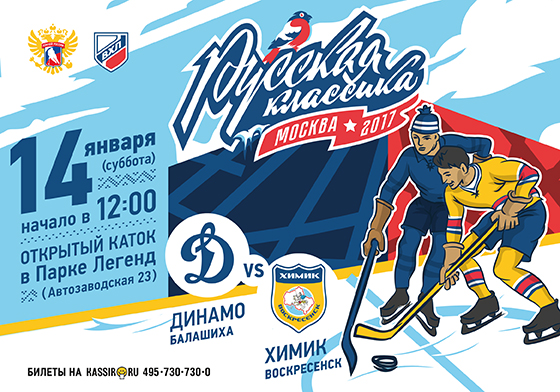 Ticket sales have begun for the VHL Russian Classic match between Dynamo Balashikha and Khimik Voskresensk. The match will take place at Moscow's Legends Park open air ice rink on the 14th of January at 12.00.
Prices will range between 100 and 200 roubles. You can purchase one on kassir.ru, however there will be a 10% commission charge.
Tickets of the orginal price can be bought at:
- Legends Park ticket offices, opening hours 10.00-20.00.
- Podmoskovye Ice Palace, Voskresensk between 08.00 and 17.00 on working days.
- Arena Balashikha.
Sectors 1 and 2 will be for Dynamo fans, while Khimik supporters will occupy sectors 7 and 8.
Children under six years of age, accompanied by their parents, are granted free entry.
If you are disabled and wish to attend the match, you must send a ticket application to ticket@fhr.ru with contact information. You can ask for a ticket until January 10th. Places are limited!
Russian Ice Hockey Federation