ALL NEWS
Reaction after winning bronze at the World Junior Championship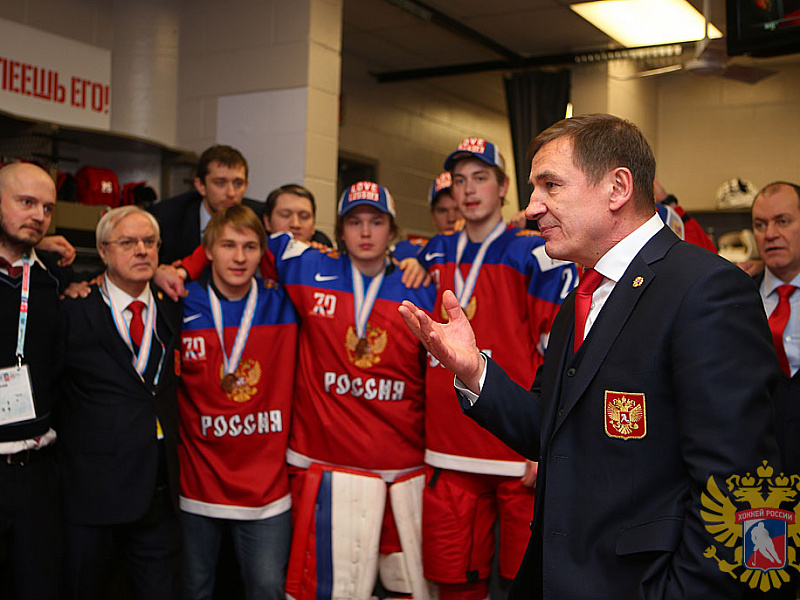 Russia U20 head coach Valery Bragin:
- It was a tough tournament for us, we're happy to win a medal. It was the first time I played in the third place playoff. I think that we managed to get the guys in the right mindset for today, it was really important. We were lacking luck yesterday, but it returned to us today. If you try your best and have a goos work ethic, good things will happen.
Russia U20 goalkeeper Ilya Samsonov:
- After yesterday's loss, we were still full of emotions for this match. I am really happy that we won, the guys fought hard, believed in victory and no one gave up. We were a united group. Of course, we would have liked to be in first place, but a medal is still a result. We know how hard it is to get on the podium, any medal for us is really important. Afterwards, I spoke with Kirill Kaprizov about the fact it was our last game at junior level. It's something which will stay with me for the rest of my life.
Russia U20 forward Denis Guryanov:
- We feel great! It's a deserved victory, the guys fought. Emotionally and physically it was hard to prepare for today, but we managed to do it. Thanks go to Ilya Samsonov, he did all he could. Also, thanks to the fans across the country for supporting us!
I am in shock about my goal. I didn't know if the puck went in, but the referee signalled that it had done. I am so happy, I have no words.
Russia U20 forward Kirill Kaprizov:
- It's always nice when you win in overtime, you can jump over the boards and celebrate. It's nice that everyone supported us even after we lost, I didn't receive any negative words yesterday.
I set a new record? I didn't know about that. For me, the team result is the most important thing, not records. We improved with every game, not only on the ice, but off it too.
Russia U20 defenseman Mikhail Sergachyov:
- We deserve this medal. Yesterday, we were a bit unlucky, but today it turned out the other way. I was playing in defence when I saw that Denis Guryanov had the puck, I simply started jumping after he scored. I was in shock.
We worked really hard for this, we practically didn't have any days off. I think that this result will give me more confidence with my club, I played well in defence and this was a component which I had to improve.
- Speak about this team.
- At first, the group wasn't that happy. However, when the tournament began, we became closer together. It was so nice to play with them today! It's great when players can unite so quickly.
- How does Valery Bragin do it? Is it magic?
- He always knows what to say and when. Probably, there is some sort of magic involved.
Russian Ice Hockey Federation