ALL NEWS
The under 18 women's national team are preparing to play Sweden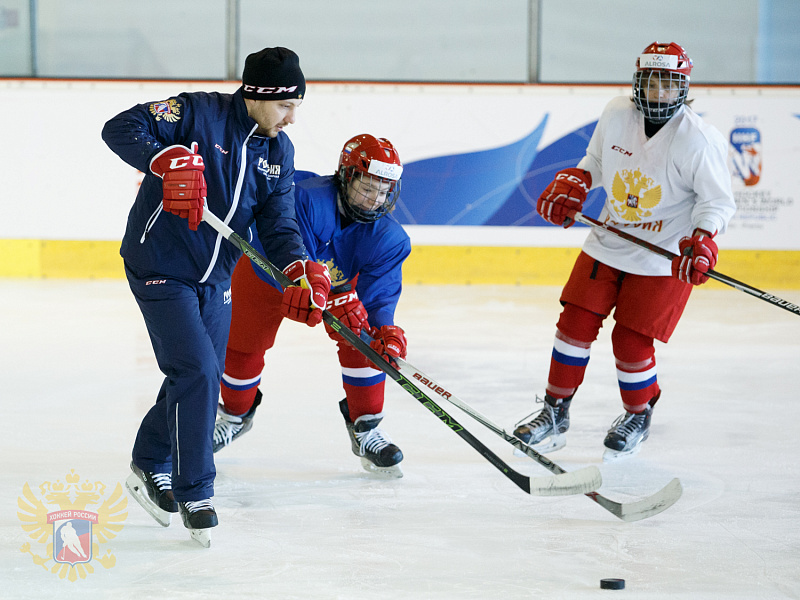 After playing two matches at the 2017 World Junior Championship, Evgeny Bobariko's under 18 Russian women's national team trained in these following lines:
Goalkeepers: Merkusheva, Farkhutdinova, Tretyak.
Blacks: Pirogova, Klimkina - Shatalova, Starovoytova, Dobrodeeva.
Whites: Orlova, Provorova - Bolgareva, Bratischeva, Beloglazova.
Reds: Zubok, Bobrova - Rodnova, Dorofeeva, Kulishova.
Blues: Savonina, Kuznetsova - Nadezhdina, Mezentseva, Shirokova.
Russia W18 forward Tatyana Shatalova:
- We have had time to rest and work over our mistakes. Yesterday's game with Canada showed that we can play against such top opponents. Yes, we may lose out to their physically and tactically, but we can beat them if we show our character.
- What can you say about Sweden, your next opponents?
- I watched their match against the Americans, they are a strong team. We usually play even games against them, but tomorrow we need to win.
- Sweden lost to the USA too.
- The Americans are clever tactically, all of their players are good in one on one battles.
Russia W18 defender Anna Klimkina:
- This training session was for us to recover and prepare. The previous two games were tough, some of us have injuries. During those matches, we never thought that we were worse than the opponents, we wanted to win. However, we made mistakes and were lacking something. Maybe we are stronger than Sweden though. If we stick to the game plan and give our all, we will have a good chance to beat them.
Russian Ice Hockey Federation