ALL NEWS
Evgeny Bobariko and Nina Pirogova speak about beating the Czech Republic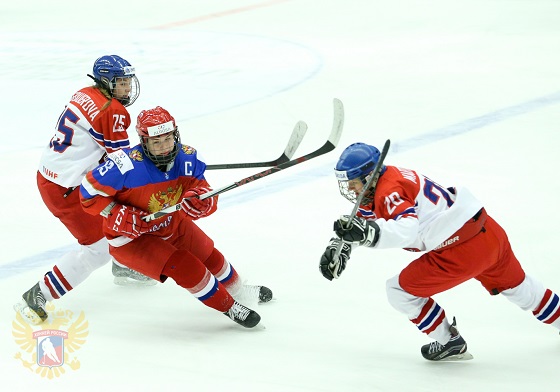 Russia W18 head coach Evgeny Bobariko:
- Having finished playing at 22:35 yesterday, we had to travel in a bus to a different city for today's game at 16:00. The girls found it really tough, but they did a great job. In the first period, Valeria Merkusheva saved a lot of Czech shots, they had the majority of goalscoring chances. We spoke during the first break, and in the second stanza, they played better. They scored two beautiful goals. Later on, the Czechs tried to provoke our players, but we did well not to bow down to it.
- What are the differences between the two arenas?
- In Zlin, the ice is smaller than here. We didn't have the opportunity to train before this game.
- How will you prepare for the USA?
- The girls have used up a lot of energy, we will hold a recovery session. Only the players who didn't have much ice time will train.
Russia W18 defender Nina Pirogova:
- The first period wasn't great for us. Afterwards, we played better and managed to win. I played a part in our second goal, we teed up Elena Provorova for a shot. We were a bit tired today, yesterday's game finished late. The Czechs played dirty, trying to provoke us.
- What happened for your fight?
- They started to attack Valeria Merkusheva, I stuck up for our goaltender. Hopefully, I gave my teammates even more emotions for the next game.
- Have you any emotions now?
- No, none at all. However, tomorrow we will rest and prepare for the USA.
Russian Ice Hockey Federation