ALL NEWS
Evgeny Bobariko and Anna Klimkina speak about the semi-final with the USA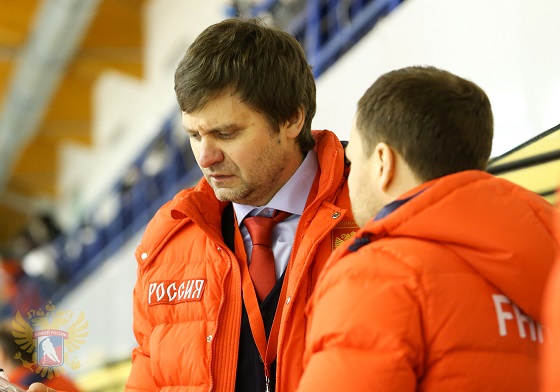 Russia W18 head coach Evgeny Bobariko:
- As coaches, we are to blame for this defeat. What was spoken after this match will stay between us. However, tomorrow our most important match is approaching.
- Did you miss Nina Pirogova and Oksana Bratischeva?
- Yes, we play more confidently with them. Nevertheless, we didn't lose because of their absence. It would simply have made our task easier had they played.
- Why did you pull Valeria Merkusheva?
- It was already 4:0, we decided to protect Valeria ahead of tomorrow's important match for a medal. These two matches against the USA were similar, we started well but after we conceded the girls were broken psychologically. Against Canada, we were calmer.
- You have already beaten Sweden at this tournament.
- Yes, we also played with them in Dmitrov. We know their weaknesses, everything will depend on us.
Russia W18 defender Anna Klimkina:
- We knew it would be difficult, all of the guys understood the importance of this match. Unfortunately, luck was against us. It's embarassing to look at our fans and coaches, we didn't stick to the game plan.
- How were the Americans stronger?
- They were faster and did what their coaches told them to do.
- The lines were changed today because of the suspensions.
- It was a bit strange for us. However, those two girls were with us, they supported us in the dressing room. I played with Maria Kuznetsova again, we had already competed together in Novogorsk. It was nice to be named the player of the game, but I don't agree with the decision. I let the girls down by taking two penalties. This match is already history though, tomorrow is a new day and a new game. We have nothing to lose, for most of the girls this will be the final World Junior Championship game. If we won't take as many penalties, everything will be fine.
Russian Ice Hockey Federation