ALL NEWS
Reaction after the first match of the President's Sporting Club Cup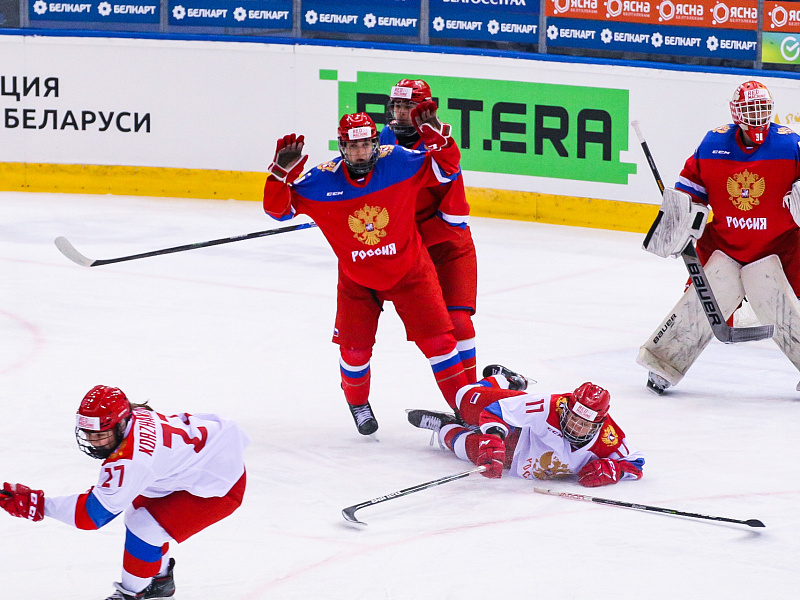 After the maiden match of the President's Sporting Club Cup in Belarus between the senior Russian women's national team and the under 16 Russian national team (1:8), representatives of both teams revealed their thoughts.

Russia W head coach Alexander Zybin:

- We are satisfied with the first and third periods. However, we didn't compete with enough concentration in the second. Of course, there is a lot for us to work on, but the girls received a useful experience on the ice. Why did we make a late goalkeeping change? Valeria Merkusheva was tired after facing so many shots, so we decided to give Darya Gredzen a chance. All three of our goaltenders need game time. I am really enjoying being in Minsk, the city is wonderful and I have a lot of friends here.

Russia U16 head coach Dmitry Mikhailov:

- This is the first international tournament for our group of players. Furthermore, we had never competed against the women's national team before. It's natural that our guys were a bit nervous, and we had to get used to the different rules as we weren't allowed to land hits today. We need to improve moving forward, we will compete against teams which are older than us.

Russia W forward Landysh Falyakhova:

- It was a tough game, but it was really interesting at the same time. The opponents are quick and don't need a lot of time to make decisions with the puck at their sticks. My goal? The goalkeeper didn't have to react, it was a good goal on the powerplay with the help of players who I have played with at club level.

Russia W defender Angelina Goncharenko:

- I always enjoy playing against male teams! They are a lot quicker. For us, it's like competing against Canada and the USA again. We're happy that we are competing at this tournament, it's an important experience for us.

Russia U16 forward Kirill Emelyanov:

- To be honest, it was a bit strange for us today, as we had never played against women before. You can't land any hits in women's ice hockey. We have a lot to learn from them, they are experienced players who have participated at the Olympic Games.