ALL NEWS
President's Sporting Club Cup. Russia W - Russia U16. Live broadcast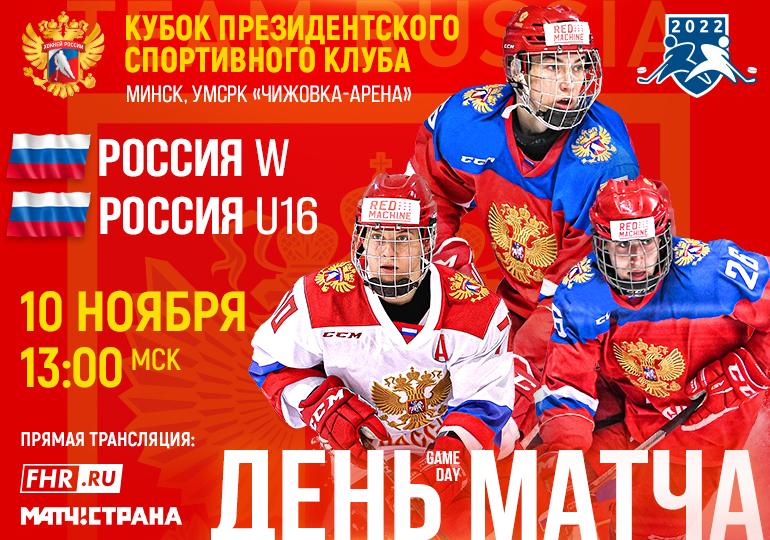 Today, the first match of the President's Sporting Club Cup will take place in Minsk, Belarus between the under 16 Russian national team and the senior Russian women's national team.
These following players have been selected for Russia U16:
Goalkeepers:
Pyotr Andreyanov (CSKA), Viktor Levchenko (Dynamo Saint Petersburg), Semyon Frolov (Lada).
Defensemen:
Maxim Agafonov, Bogdan Pestretsov, Daniil Skvortsov (all CSKA), Vladimir Guzeev (Vityaz), Andrei Zavadsky, Maxim Moiseev (both Avangard), Nikolai Izmaylov (Salavat Yulaev), Kurban Limatov (Dynamo Moscow), Nikita Poltavchuk (Metallurg Magnitogorsk, Ivan Stefanishin (SKA-Strelna).
Forwards:
Artyom Akhmadullin, Arseniy Ilin (both SKA-Strelna), Mikhail Vorfolomeev (Lada), Lavr Gashilov, Dmitry Isaev (both Avto-Spartakovets), Nikita Esipov, Roman Rizvanov (both CSKA), Kirill Emelyanov, Dmitry Yakutsenak (both Lokomotiv-2004), Yegor Murashev (Yugra-Yunior), Yegor Potapov (Ak Bars), Yegor Privalov (Avangard), Ivan Ryabkin (Dynamo Moscow), Danila Semikhin, German Suzdorf (Vityaz).
This is the women's squad:
Goalkeepers:
Valeria Merkusheva (Tornado), Milena Tretyak (Belie Medveditsy), Darya Gredzen (Biryusa).
Defenders:
Alexandra Budanova, Elena Provorova (both Biryusa), Liana Ganeeva (Dynamo-Neva), Angelina Goncharenko (Torpedo), Maria Pechnikova, Anna Shibanova (both Agidel), Nina Pirogova, Anna Savonina (both Tornado).
Forwards:
Oksana Bratishcheva, Polina Bolgareva, Alexandra Vafina, Fanuza Kadirova (all Dynamo-Neva), Ekaterina Dobrodeeva, Oksana Mitrofanova (both Biryusa), Veronika Korzhakova, Polina Luchnikova, Ilona Markova, Elizaveta Rodnova, Ksenia Tyurina (all Agidel), Viktoriya Kulishova (Belie Medveditsy), Ekaterina Likhachyova, Alyona Starovoytova, Landysh Falyakhova, Alexandra Nesterova, Anna Shokhina (all Torpedo).
Puck-drop is scheduled for 13:00 Moscow time.
LIVE BROADCAST