ALL NEWS
Interviews after the under 17 match against the USA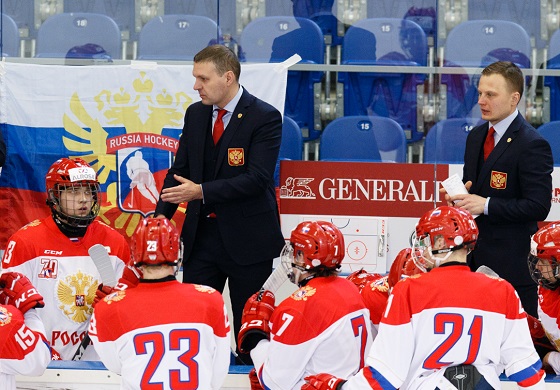 Russian under 17 head coach Igor Efimov:
- It was an emotional match for the fans and for us. The first period was 0:0, but I wouldn't say that the team took long to get into the game, simply we had the task of keeping the opponents at bay. It was a tactical game. Then, later on, movement improved on both sides. Unfortunately, we couldn't make use of our odd man rushes.
Sadly, individual errors led up to two conceded goals at the start of the third frame. Sometimes, the Americans were stronger. However, despite this loss, we will analsye our mistakes. I'm satisfied that we managed to get back into the match, but we still lost. The whole of the team fought until the end. This isn't the first tournament where injuries and illnesses have hit us hard, three players are out. Hopefully, they can play tomorrow.
Russia U17 forward Vladislav Kotkov:
- Despite playing poorly in defence, we did great in attack and managed to score three goals. All of the players fought for each other until the final buzzer. At the start of the third period, we weren't ready to play after the break. My line was on the ice for three goals today, I am satisfied with how we peformed. Nevertheless, our goals are down to the whole team's work. When I scored, I received a good pass, the American defenseman fell over and I sped past him.
Russia U17 forward Grigory Denisenko:
- We didn't manage to play the whole match like the third period. Despite those two quick conceded goals, we crashed the net hard during the third. However, having not scored in the first two periods, we didn't play that well. Has my goal given me positive emotions? I managed to score with twenty seconds on the clock, Vladislav Kotkov made a great pass and managed to score. It didn't bring me any satisfaction though, we lost.
Tomorrow, we will play against Sweden. They have a good team, their players move the puck quickly and shoot well.
Russian Ice Hockey Federation