ALL NEWS
Liga Stavok Sochi Hockey Open. Russia U25 - Dinamo Minsk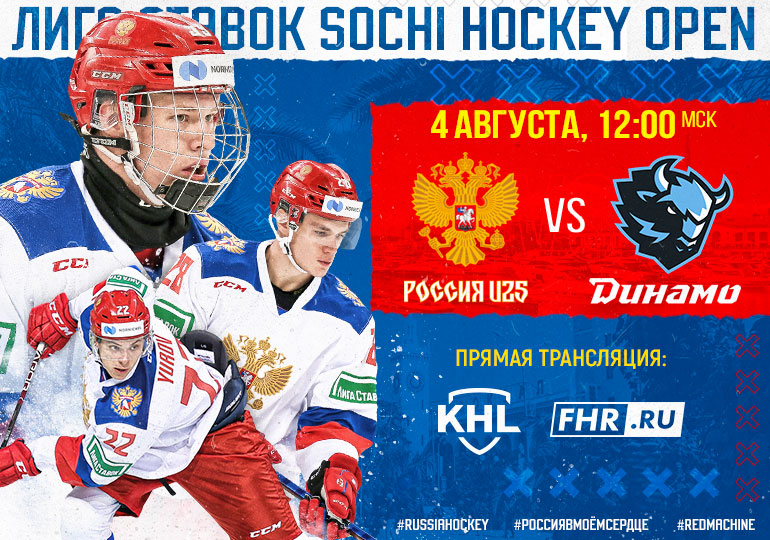 Today, the under 25 Russian national team will compete against Dinamo Minsk in the second match of the 2022 Liga Stavok Sochi Hockey Open.
In the opening game of the competition, our players defeated Avangard Omsk 4:3 in a thriller, with Alexander Volkov, Prokhor Poltapov, Viktor Neuchev and Dmitry Buchelnikov all scoring wonderful goals.
These following players were called up to the side for the tournament:
Goalkeepers:
Vyacheslav Peksa (Ak Bars), Sergei Ivanov (SKA), Ilya Nabokov (Metallurg Magnitogorsk).
Defensemen:
Stepan Anisimov, Grigory Gryaznov, Kirill Kirsanov, Arseniy Koromyslov, Ivan Remezovsky (all SKA), Yaroslav Busygin (Vityaz), Arseniy Varlakov (Yugra), Vladimir Grudinin, Artyom Duda (both CSKA), Bogdan Krokhalyov (Metallurg Magnitogorsk), Nikita Novikov (Dynamo Moscow).
Forwards:
Dmitry Buchelnikov, Maxim Groshev, Matvei Kabush, Daniil Lazutin, Matvei Michkov, Alexei Ozhgikhin, Kirill Tankov (all SKA), Alexander Volkov, Alexander Perevalov (both Lokomotiv), Dmitry Katelevsky (Ak Bars), Viktor Neuchev (Avtomobilist), Prokhor Poltapov (CSKA), Danila Yurov (Metallurg Magnitogorsk).
Puck-drop is scheduled for 12:00 local time.
LIVE BROADCAST