ALL NEWS
Review of the NMHL playoffs first round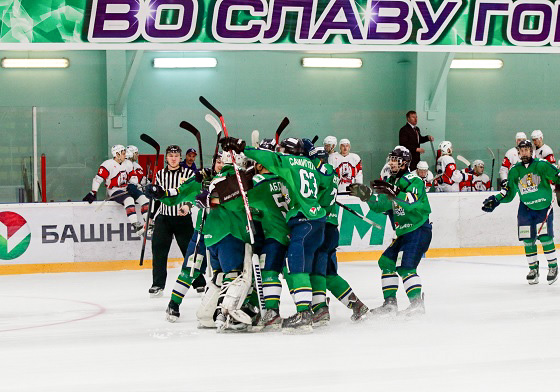 Dizelist versus Belgorod
It turned out to be an easy ride for the Western Conference winners Dizelist, as they thrashed Belgorod 3:0 in the series with a goal difference of 17-2. For Belgorod, this was the second time that they made the NMHL playoffs and yet again they failed to get past the first hurdle. Dizelist goalkeeper Maxim Borisov was one of the main heroes of the series, stopping 65 of the 67 shots he faced.
Dmitrov versus Rossosh
Despite Dmitrov being second seeds, this proved to be one of the round's most dramatic series. Rossosh, who finished in seventh place of the regular season, took Dmitrov all the way, eventually losing 0:3 in the fifth game. That particular match was witnessed by 2450 spectators in Dmitrov, a season record for the Moscow Region club. This will be the first season in three where Rossosh have not competed in the final.
Loko-Yunior versus Severskie Volki
It was a predictable victory for Loko-Yunior, as they breezed past their opponents 3:0 in the series. It was Severskie Volki's first appearabce in the NMHL playoffs, and they simply didn't have the experience to be able to compete on a level footing with a strong Loko-Yunior side. The Yaroslavl outfit march on.
SKA-Karelia versus Tverichi
For the first time in history, SKA-Karelia qualified for the NMHL playoffs and immediately made it to the second phase. SKA-Karelia won their first two matches in Kondopoga, setting themselves up well for the trip to Tver. Fortunately for them, they managed to earn one victory out of two in Tver and cruise into the next stage 3:1!
Progress versus Yuzhniy-Ural Metallurg
Interestingly, Yuzhniy-Ural only made the playoffs by beating Progress on the final day of the regular season. However, that would prove to be their final joyous moment of the year,. Porgress, expected to emerge winners, comfortably saw off their opponents 3:0. They will now play Yunior Kurgan in the second playoff stage.
Batyr versus Krasnoyarskie Rusi
Another series which went the full distance, and Batyr won it 3:2 on penalty shots in the deciding match thanks to this quite stunning penalty shot from Semyon Bogachonok! He has obviously been watching Nikita Kucherov videos from the NHL.
It will be a Bashkortostan derby in the next round, where Batyr will take on Gornyak.
Best players of the NMHL playoffs first round

Goalkeeper: Maxim Borisov (Dizelist), 3 games, 1 shutout, 3 victories.
Defenseman: Ivan Khonchev (Dmitrov), 5 games, 2 goals, 3 assists, 5 points, +3.
Forward: Evgeny Kirillov (SKA-Karelia), 4 games, 4 goals, 0 assists, 4 points, +5.
Second round draw:
Western Conference
Dizelist (1) versus SKA-Karelia (4);
Dmitrov (2) versus Loko-Yunior (3).
Eastern Conference
Gornyak (1) versus Batyr (4);
Yunior (2) versus Progress (3).
Series will begin on the 18th and 19th of March.
Russian Ice Hockey Federation