ALL NEWS
Alexander Syomin's testimonial match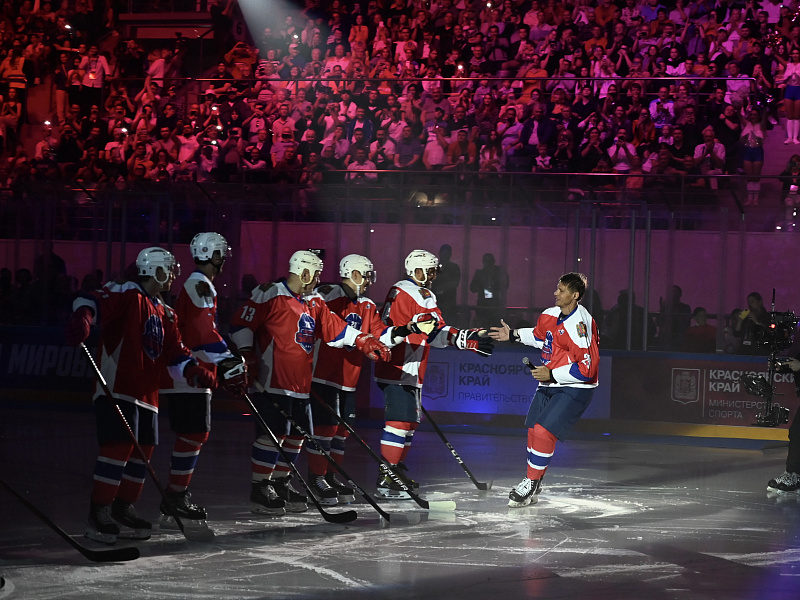 On June 30, two-time world champion and Russian ice hockey legend Alexander Syomin participated in his testimonial in Krasnoyarsk.
The likes of Alexander Ovechkin, Danis Zaripov, Maxim Afinogenov, Andrei Markov, Viktor Kozlov, Dmitry Orlov, Pavel Datsyuk, Anton Khudobin, Alexander Svitov and Arseniy Gritsyuk all participated in the celebratory game, with the arena completely sold out.
Furthermore, Syomin himself purchased tickets for an entire sector inside the stadium for children who are members of Krasnoyarsk ice hockey schools.
In the match itself, Team Syomin managed to defeat Team Datsyuk by a score of 10:9.
Upon the conclusion of the event, Governor of Krasnoyarsk Krai Alexander Uss and Syomin presented certificates worth one million rubles each to the Red Lightning sledge hockey team and the Esaulovsky and Emelyanovsky orphanages.
"I have gathered everyone here in my hometown to end my career which lasted 20 years" stated Syomin. "I played at the World Championship, in the NHL and won the KHL Gagarin Cup with Metallurg Magnitogorsk. However, the time has come for me to hang up my boots. I would like to thank all of the fans who enjoyed watching me play, my friends, loved ones and my wonderful wife Alyona, who has given me two fantastic sons. The main people who I would like to thank are my parents. Sadly, my father isn't with us anymore, but I think that he is proud of me as he watches me from above. I would like to thank my mother who was with me throughout me ice hockey journey. Mum, you are the main person in my team!"
"Never before has our stadium hosted so many stars!" revealed Uss. "There are champions and medalists of the Olympic Games, World Championships, the Stanley and Gagarin cups and current NHL and KHL players. This game will certainly go down in the sporting history of our region! Today, Alexander Syomin is ending his professional career, but his relationship with ice hockey isn't finishing here. A lot of work is ahead concerning the next generation. I want to wish Alexander success on his new journey, I am confident that his talent and unique experience will help him be successful."
You can watch videos of the event on the
following
links
.