ALL NEWS
The best from the NMHL playoff quarter-finals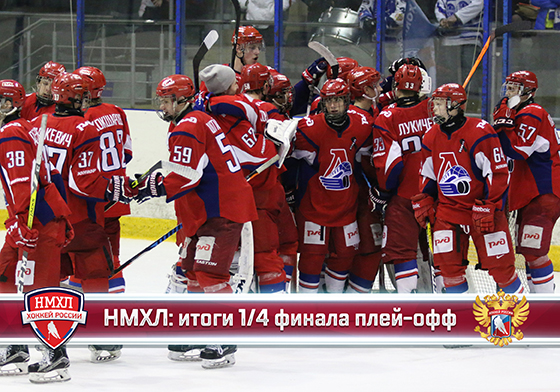 Dizelist - SKA-Karelia (3:0)
Despite Dizelist sweeping SKA-Karelia 3:0, the series was a lot tighter than it appears. Dizelist won 1:0, 2:0 and 1:0 SO, amazingly preventing SKA-Karelia from scoring a single goal in the series. Goalkeeper Maxim Borisov was the hero, keeping SKA-Karelia off the scoreboard.
Dmitrov - Loko-Yunior (0:3)
Loko-Yunior, boosted by the arrival of players from the MHC Loko MHL team, thrashed Dmitrov 3:0 in impressive fashion. They won the series comfortably, barely breaking sweat. The Yaroslavl outfit will certainly be confident of going even further in the competition.
Gornyak - Batyr (3:2)
Last year's champion Gornyak were given a bye to the second round, but they showed no sign of rustiness as they edged Batyr 3:2 in a thrilling series. Gornyak had to come from behind twice in the series, eventually proving too strong for Batyr.
Yunior - Progress (3:2)
Just like Gornyak, Yunior were given the opportunity to rest while the playoffs first round took place. Their freshness told in this series against Progress, outlasting their opponents by winning the series 3:2. One of the key moments was this Yunior goal scored by Fyodor Vedernikov from neutral ice.
Best players of the NMHL playoffs quarter-final stage:
Goalkeeper: Maxim Borisov (Dizelist). Three shutouts in three games.
Defenseman: Georgy Tukaev (Progress). Five games, one goal, three assists, +2.
Forward: Kirill Usanin (Gornyak). Five games, five goals, one assist.
SEMI-FINALS
Western Conference:
Dizelist (1) versus Loko-Yunior (3)
Eastern Conference:
Gornyak (1) versus Yunior (2)
Series will begin on the 1st and 2nd of April.
Russian Ice Hockey Federation