ALL NEWS
Friendly match. Russia U20 - Russia U18 - 3:1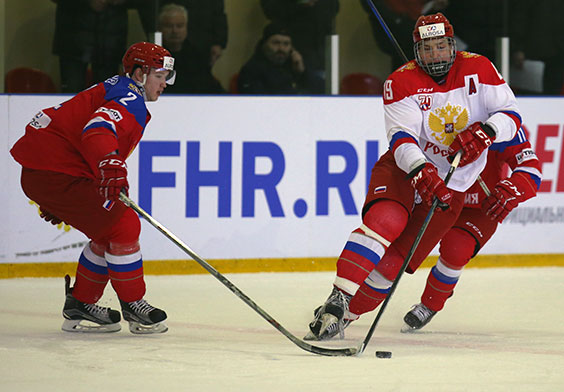 In Novogorsk, the under 20 and 18 Russian national teams played a friendly match against each other. The sides played three periods of twenty minutes, overtime and a penalty shootout.
Igor Shyrev, Yury Muravyev and Alexander Kalinin scored three goals in regulation to give Russia U20 a 3:1 victory. The U18's only goal came through Leonid Nikolenko late in the third period. Despite that result, the teams still played overtime and had a shootout. The extra five minutes were goalless, but Russia U20 earned another triumph in the penalty shootout.
Russia U18 are continuing to prepare for the World Championship which will begin in Slovakia on the 13th of April. Meanwhile, Russia U20 are training for a Five Nations tournament.
Russia U20 line-up:
Melnichuk (Lozebnikov);
Zaitsev, Kalinin - Kayumov, Shyrev, Veryaev;
Lavrinenko, Alexeev - Manukyan, Rasseykin, Polodyan;
Sevostyanov, Chernyuk - Vasiliev, Nazarevich, Kara;
Kovalev, Afanasyev - Koshurnikov, Tsyganov, Sholokhov;
Krivosheev, Kurashov - Revatskiy, Ivanov, Muravyev.
Russia U18 line-up:
Ustimenko (Rayko);
Okhotyuk, Osin - Lobanov, Yaremchuk, Toropchenko;
Dedov, Rodionychev - Marushev, Klisunov, Shashkov;
Zhdanov, Kazamanov - Popov, Shen, Groshev;
Shafigullin, Kovyrin - Skorikov, Nikolenko, Kravtsov.
Match protocol:
Russia U20 - Russia U18 - 3:1 (1:0, 1:1, 1:1)
Goals:
1:0 Shvyrev (Veryaev), 13.01
2:0 Muravyev (Zaitsev), 38.07
3:0 Kalinin (Shvyrev), 46.40
3:1 Nikolenko, 56.45
Goalkeepers: Melnichuk/Lozebnikov - Ustimenko/Rayko
Penalty minutes: 14 - 10
30.03.2017. Novogorsk.
Russian Ice Hockey Federation