ALL NEWS
Interviews after the U17 match against Finland at the Five Nations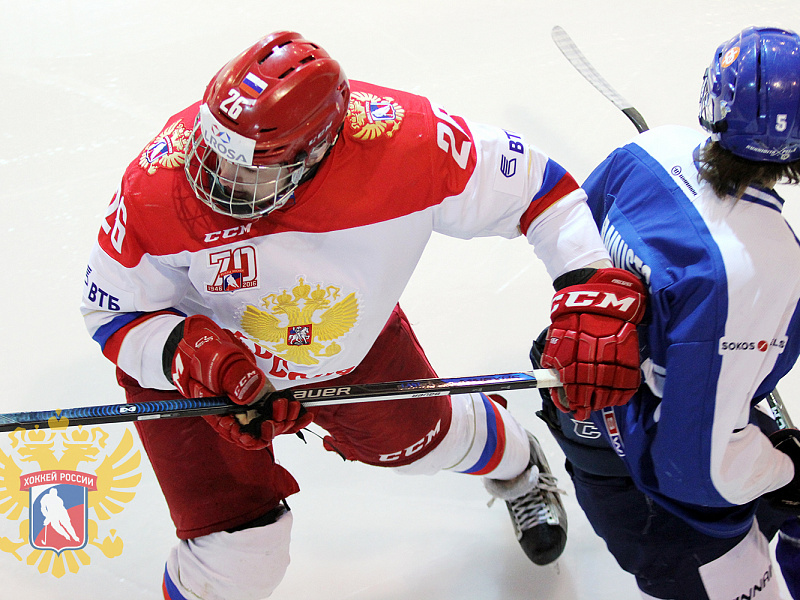 Russia U17 head coach Alexander Zybin:
- This team has players which have only just joined. I have also only been with them a week. Unfortunately, we didn't have time to put together a great performance. Finland have a very mobile team. Some players don't understand how to play when the pressure is on, they shot on goal too early. Others were lacking good movement. It's interesting playing 3 on 3 overtime. However, you need technical forwards when playing the extra frame. Our tactics have changed, we are now pressing opponents more. We are missing Andrei Svechnikov and the injured Alexander Khovanov. At the Russian championship in Khanty-Mansiysk, we need to find 10-20 players out of 120 who can play for the national team.
Russia U17 forward Yegor Sokolov:
- We could have scored early in the first period, but we ended up losing that frame 0:2. In the third, we improved and I managed to score with only six seconds remaining. Grigory Denisenko slapped the puck, I waited on the crease and tipped it in. It's a shame that our leaders Andrei Svechnikov and Alexander Khovanov aren't here. Next season, we will play at the Ivan Hlinka memorial tournament, the Challenge Cup and World Championship. We are already preparing for those competitions. Now, we have to keep progressing.
Russia U17 forward Dmitry Zavgorodniy:
- The team performed well and fought until the end. In the first frame, Finland were better than us, we took too many penalties in the second period but in the third we showed our character and made a comeback. It was interesting to play 3 on 3 overtime. The stadium was full today, the fans really helped us.
Russian Ice Hockey Federation