ALL NEWS
Reaction after Russia U17's match against Switzerland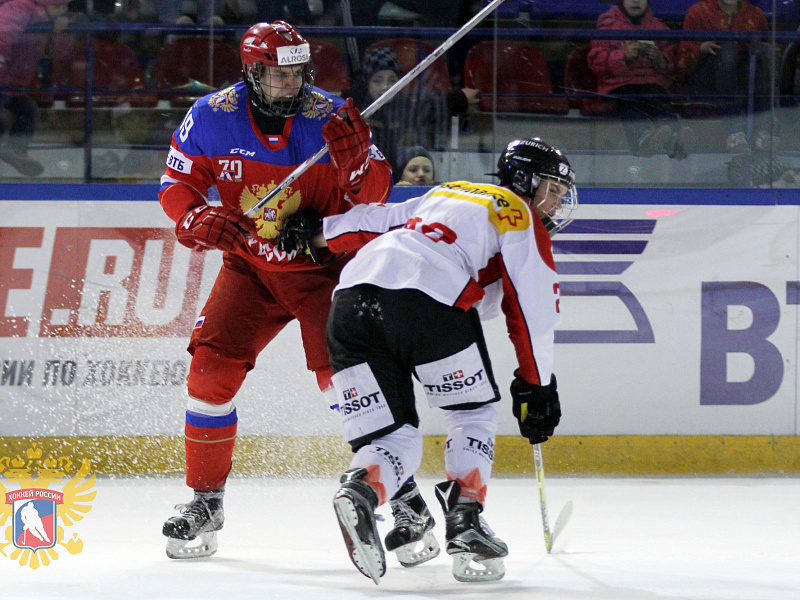 Russia U17 head coach Alexander Zybin:
- We played in attack and created a number of chances. However, any mistake resulted in us conceding a goal. We'll continue working on this in training. I like how we skated forward, the players feel easier after the training camp before this tournament and are playing better. Unfortunately, we are not taking advantage of all of our opportunities. Our movement is good though. We changed our lines for this game, we are still looking for the best options. Only one penalty was taken today, we spoke to the guys about being careful in our own zone.
Russia U17 forward Nikita Rtischev:
- The team conceded quick goals, but we couldn't score on our own chances. Nevertheless, the main thing is that we managed to win. Today, we tried out best not to take penalties and we managed to do that. I have a good mutual understanding with Vladislav Kotkov, we managed to score important goals together. Against Finland, we recovered from 0:2 but lost in overtime. The tournament situation didn't allow us to drop two consecutive matches. The coaches gave us the right game plan. Big thanks to the fans for their support, it's easier to play when the stadium is full.
Russia U17 forward Ilya Badanin:
- When I scored, I took the puck because it was my first for the national team. My teammates gave me a great opportunity, I simply had to hit the net. We scored a lot today, but the opponents caught us out on the counterattack. The coaches told us that we cannot take penalties in the opposing zone. We were more aggressive today, however we need to improve our goalscoring capabilities. There was a fantastic atmosphere today, my parents were also in the stands.
Russian Ice Hockey Federation