ALL NEWS
Sergei Golubovich: "We knew it would be a tough game"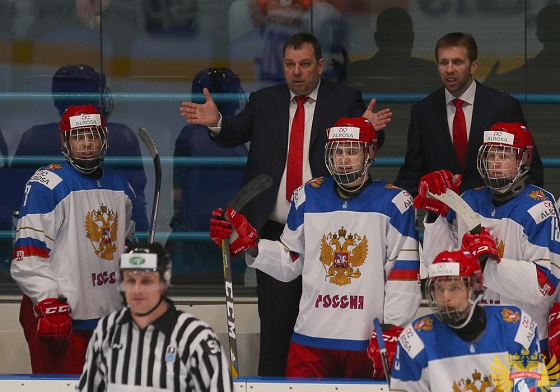 After beating the Czech Republic at the World Championship, Russia U18 head coach and players gave their reaction.
Russia U18 head coach Sergei Golubovich:
- We knew it would be a tough game, the Czech Republic have long been an important opponent for Russia. We didn't think about the fact that we could lose by one goal, we wanted to win. Both teams made mistakes.
Slovakia are a solid team in defence. We don't have much time to prepare, but we can improve some aspects. Maxim Zhukov's mistake? Goalkeepers hold the right to make one mistake. Nevertheless, he saved us in overtime.
Russia U18 forward Alexei Lipanov:
- It was a difficult match. Everyone fought until the end. We always want to win every game, we never think otherwise. Maxim Zhukov isn't a robot, he can't save all of the shots he faces. However, he was great in overtime. I think that we are constantly improving and that we will find it easier in the quarter-finals. The guys are focused, and it doesn't matter that we will now play in a different city.
Russia U18 forward Nikita Shashkov:
- We managed to score quick goals, but we let the Czechs get back into the game too easily. We will work on this. I have great emotions from scoring my first goal for the national team, I saw that Veniamin Baranov was going to dump the puck into the slot and I tipped it in. I had a chance in the very first shift, but I failed to hit the empty net. Slovakia are the tournament hosts, the fans will cheer them on.
Russia U18 defenseman Mark Rubinchik:
- A defenseman never expects to score two goals in a match, especially in overtime. The coaches have been telling me to join the rush more and shoot from the blue line. Slovakia are always a difficult team to play against, they are the hosts too. However, we are fighting for our country.
Despite losing the one game to the USA, we played how the coaches wanted us to. We created a lot of chances against a strong team. My overtime goal? I saw that a Czech player had finished his shift, Ivan Muranov skated clean through and I had a chance to join the attack.
Russian Ice Hockey Federation