ALL NEWS
Euro Hockey Tour. Sweden - Russia. A statistical look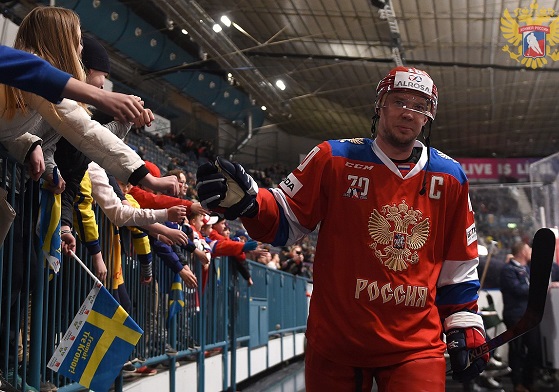 Boasting 59 points (30+29), Sergei Mozyakin has become Russia's top Euro Hockey Tour scorer. He has overtaken Maxim Sushinsky, who was on 58 (26+32).
Sergei Mozyakin has competed in 150 Russian national team matches, picking up 117 points (62+55). In the overall Russian rankings, he only trails Ilya Kovalchuk who has 134 points.
At the Czech stage of the Euro Hockey Tour, Sergei Mozyakin has 14 points in just 13 appearances (10+4). However, Alexei Morozov still leads the way with 18 (11+7).
Bogdan Kiselevich has played in 25 Russian matches. So far, he has 5 points (1+4).
Sergei Andronov and Andrei Mironov both competed in their 15th Euro Hockey Tour game. Anton Burdasov played his 10th tournament match.
Defenseman Ivan Provorov made his senior national team debut. Before this game, Nikita Kucherov and Vladislav Namestnikov had never played in the Euro Hockey Tour.
For the first time, Vladimir Tkachyov made three assists in a national team match. He already has 10 points in this year's Euro Hockey Tour (3+7).
Three of Russia's five Euro Hockey Tour overtime defeats have come against the Swedes.
Russia and Sweden played against each other at the HOVET Arena for the first time in history.
Russian Ice Hockey Federation