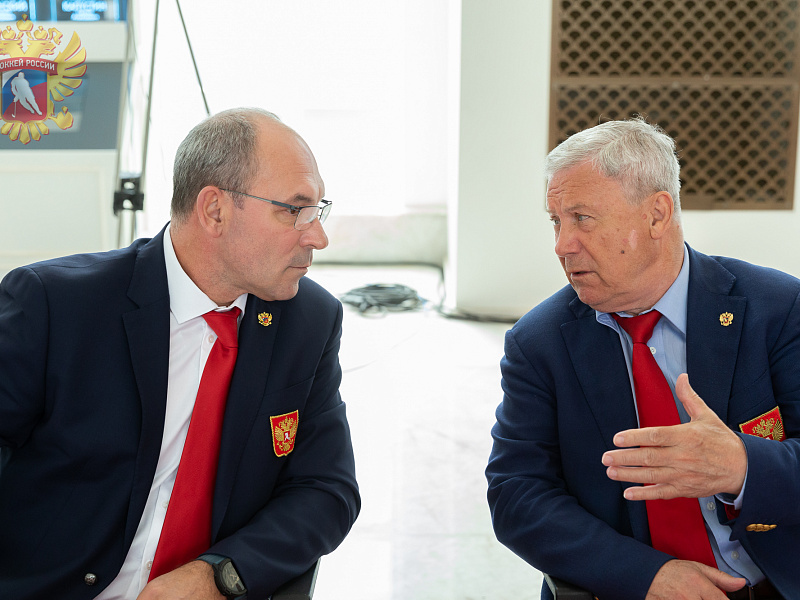 The coaching council of the Russian Ice Hockey Federation (RIHF) consists of RIHF president Vladislav Tretiak, first vice-president Roman Rotenberg, special RIHF representative for international affairs Pavel Bure and honourary vice-president (and the chairman of the council) Boris Mayorov. Furthermore, the coaching council is also made up of veterans Igor Tuzik and Boris Mikhailov and current coaches Valeri Bragin, Igor Nikitin, Sergei Zubov and Vladimir Filatov.

Evgeny Bobariko, Alexei Zhamnov, Alexei Kudashov and Sergei Fyodorov, who worked with the men's and women's national teams at the 2022 Olympic Games in China, were invited to the coaching council's meeting. Bobariko and Zhamnov, who coached the women's and men's teams respectively at the tournament, reported on the performance at the Olympics. The meeting's participants evaluated their work from a coaching point of view.

President of the RIHF Vladislav Tretiak:

- This was a productive and useful meeting. Professional questions were asked, members of the coaching council evaluated the work of the men's and women's national team management group concerning the Olympic Games. The issues which resulted in the teams not achieving their respective targets were also discussed.

The task for the men's team was to win gold, while the task for the women's side was to finish in a medal position. The work of both Zhamnov and Bobariko has been deemed satisfactory. All decisions concerning next season will be taken by the RIHF in due course.