ALL NEWS
Russia are preparing for the World Championship in Germany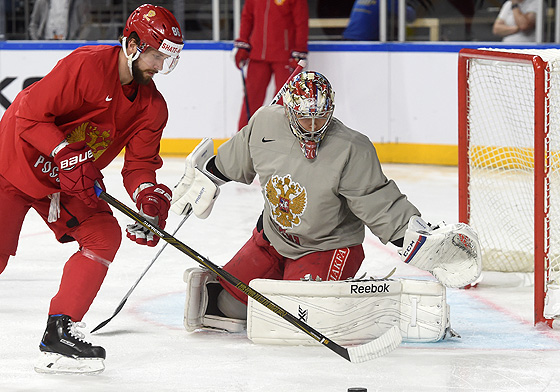 The senior Russian national team are continuing to prepare for the 2017 World Championship in Cologne. Today, the players trained in these following lines:
Shestyorkin, Vasilevskiy, Sorokin;
Kiselevich, Gavrikov - Telegin, Andronov, Plotnikov, Nichushkin;
Provorov, Mironov - Gusev, Namestnikov, Kucherov;
Antipin, Belov - Panarin, Shipachyov, Dadonov;
Naumenkov, Zub - Mozyakin, Tkachyov, Barabanov, Lyubimov.
Tomorrow, the tournament's first match will take place against Sweden at 17:15 Moscow time.
Russian national team coach Igor Nikitin:
- Our strongest players will compete against Sweden. I think that the Swedes will play at a fast tempo and be aggressive. We have to be ready for that, they have quality players. We can't give them space and cannot not let them play at their strengths. At the same time, we need to rely on our forwards showing what they are made of. In the past, we have started the World Championship against both strong and weak opponents.
Russian national team captain Sergei Mozyakin:
- We have excellent players and coaches. Our goals are high, all of the guys have come here to win. We're ready for the competition. It's a huge honour for me to be captain, everyone wants to lead their national team.
Before playing Sweden in the Euro Hockey Tour, I had only trained with Vladimir Tkachyov once. It's great to play in one line together, he understands the sport well. I am ready to play with anyone in the team. However, I have played with Sergei Plotnikov on one occasion while I have never competed with Alexander Barabanov.
Russian national team forward Vladislav Namestnikov:
- All of the guys are feeling good, we're preparing for the World Championship. The ice was better today than yesterday. I have played with Nikita Gusev and Nikita Kucherov before, we have a good mutual understanding.
Sweden have a lot of Tampa Bay players? I wouldn't say that any of us are thinking about that. This match might be similar to the fixture we played in Stockholm not long ago, it will be an interesting game. We will look at the video and stick to the game plan.
Russian Ice Hockey Federation