ALL NEWS
The RIHF signed a partnership agreement with Katalizator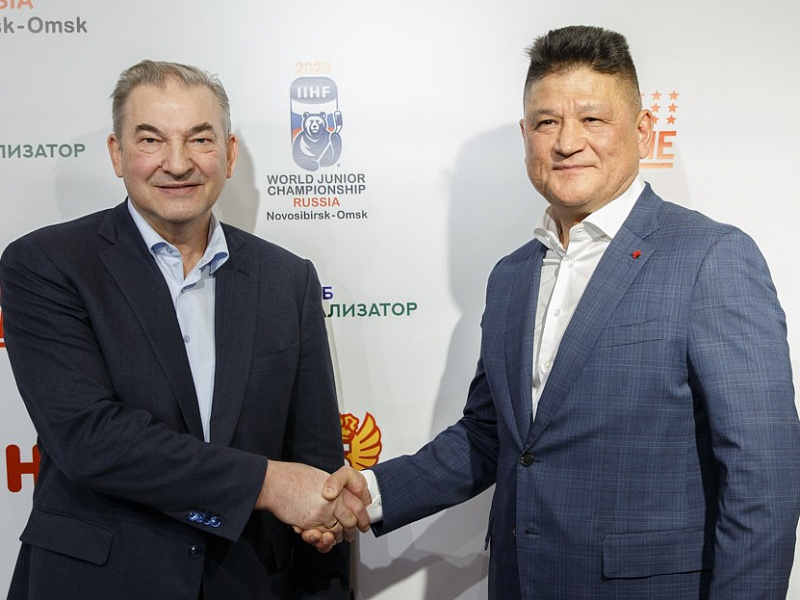 On January 27, JSC SKTB Katalizator signed an agreement to become a regional partner of the 2023 IIHF World Junior Championship, which will take place betweeen December 26 and January 5 in Novosibirsk and Omsk, Russia. This will be the first time in 10 years when the tournament has been staged on Russian territory.

The agreement was signed by the president of the Russian Ice Hockey Federation Vladislav Tretiak and general director of JSC SKTV Katalizator Vitaly Khan. Katalizator is one of Russia's leading developers, manufacturers and suppliers of technologies, products and services for petrochemical, oil refining, industrial ecology and desulphurization processes. The enterprise has been operating in Novosibirsk for more than half a century and solves important scientific and production problems.

President of the Russian Ice Hockey Federation Vladislav Tretiak:

- The 2023 World Junior Championship is a unique tournament. For the first time in history, it will take place on Siberian soil. Matches of the best teams of the planet will be played in cities which are the centres of ice ehockey development in the eastern part of Russia. Novosibirsk has been known since Soviet times as one of the powerhouses of the development of domestic industry and science. Our country has always been famous not only for fantastic ice hockey players, but also for brilliant inventors, production workers and engineers. Katalizator ensures the uninterrupted operation and technological development for the most important sectors of the domestic economy.

We are very pleased to cooperate with such partners. We are united by the desire for victories and success, as we work for the sake of Russia's leadership in key areas of modern life. I am convinced that our joint efforts will translate into a wonderful festival of ice hockey. We will show the world that Russian intellect and Russian sportsmanship are things which our country can be proud of.

General Director of JSC SKTB Katalizator Vitaly Khan:

- Ice hockey is Russia's number one sport, and Siberia can't wait to host the World Junior Championship. We are very happy that we can contribute to the development of our national sport. I am convinced that our cooperation with the RIHF will be productive, and that the World Junior Championship will subsequently be remembered by Novosibirsk for a very long time. The victories of our ice hockey teams inspire us all; after successful matches, the mood and efficiency of our workers increase. We will support the junior Russian national team at the tournament!