ALL NEWS
2022 World Junior Championship. Russia - Sweden - 3:6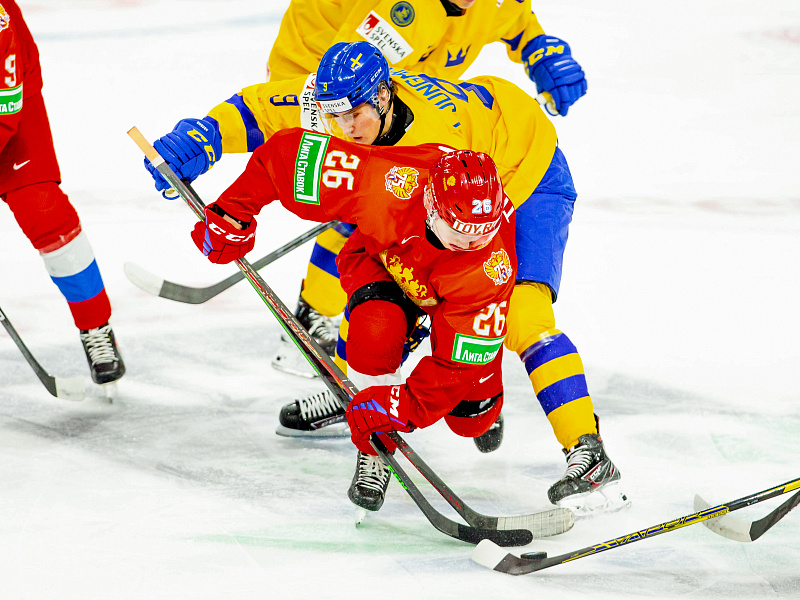 In the opening match of the 2022 IIHF World Junior Championship, the under 20 Russian national team came up short against Sweden, conceding a 3:6 defeat in Red Deer, Canada.

The Swedes were three to the good after 35 minutes, scoring twice on the powerplay and once shorthanded. However, Russia gained an important goal before the end of the second stanza, as Fyodor Svechkov bundled the puck over the line on the crease.

The Russian coaching staff made the call to swap Yaroslav Askarov for Yegor Guskov in net for the third period.

That had little effect on proceedings, though, with Sweden tallying another powerplay marker in the 44th minute. To their credit, though, our players didn't back down, and Matvei Michkov netted twice in the space of a minute not long later to bring them back to within one.

Nevertheless, it wasn't to be, and Sweden grabbed a fifth goal on the counter-attack before icing it with an empty-netter.

Russia will now prepare to face Switzerland tomorrow at 00:30 Moscow time.

Match protocol:

Russia U20 - Sweden U20 - 3:6 (0:1, 1:2, 2:3)

Goals:

0:1 Olausson (Holtz, Grans), 05.24 PPG
0:2 Edvinsson, 27.39 SHG
0:3 Andrae (Grans, Eklund), 34.16 PPG
1:3 Svechkov (Chibrikov, Tankov), 36.28
1:4 Holtz (Eklund, Andrae), 43.26 PPG
2:4 Michkov (Demidov), 44.45
3:4 Michkov (Smirnov, Khusnutdinov), 45.26
3:5 Niederbach (Olausson, Edvinsson), 51.37
3:6 Ljungman (Edvinsson), 59.10 EN

Goalkeepers: Askarov/Guskov - Wallstedt

Shots on target: 30 - 24

Faceoffs: 31 - 38

Penalty minutes: 12 - 4

26.12.2021.