ALL NEWS
Day one of the 2021 World Hockey Forum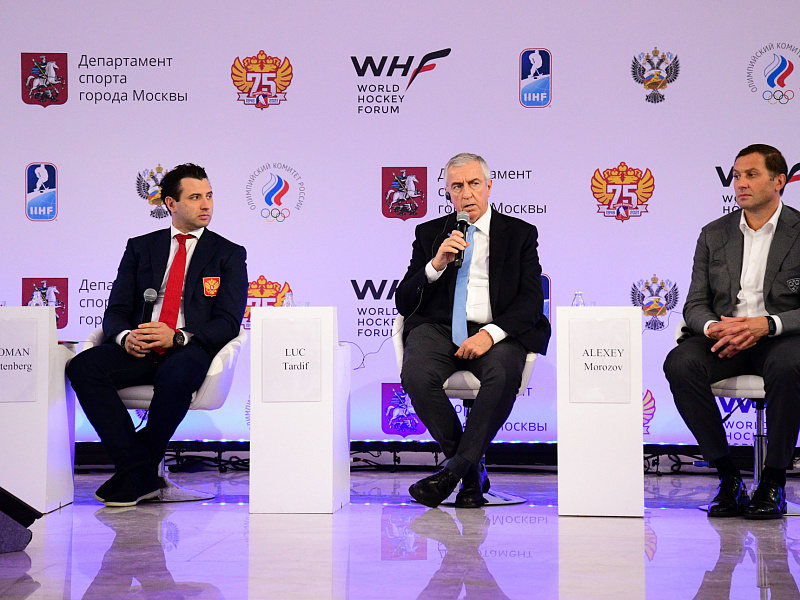 The opening day of the 2021 World Hockey Forum took place in Moscow in an online format.

This the sixth year in which the event is being staged. It was opened by Russian Ice Hockey Federation (RIHF) president Vladislav Tretiak, International Ice Hockey Federation (IIHF) president Luc Tardif, Russian Minister of Sport Oleg Matytsin and Russian Olympic Committee (ROC) president Stanislav Pozdnyakov.

Luc Tardif, first vice-president of the RIHF Roman Rotenberg, president of the Kontinental Hockey League (KHL) Alexei Morozov, members of the IIHF Council and representatives of the NHLPA participated in the discussion concerning federations, leagues and their influence on the development of ice hockey.

Another important topic of discussion was the competencies of modern ice hockey coaches concerning youth, professional and international level. The participants were the director of the development and implementation department of the Red Machine National Development Program Pavel Sheruimov, legendary Canadian coach Mike Keenan and top ice hockey managers from Finland and Sweden.

The second day of the forum will take place tomorrow on Friday.

First RIHF vice-president Roman Rotenberg:

- It was important for us to hold this forum, because there is no other platform in the world on which you can openly discuss all of the ideas for the development of ice hockey. This is the sixth year when it has been held, and our goal is to encourage more children to start playing the sport. Our victory at the Olympic Games in 2018 expanded our audience, now we have more people willing to play ice hockey than we can give the opportunity. Therefore, more ice rinks need to be built - in addition to the state program, private investors are now appearing too. We're also continuing to work on the Red Machine National Development Program which unifies the education process of ice hockey.