ALL NEWS
The national team trains in Riga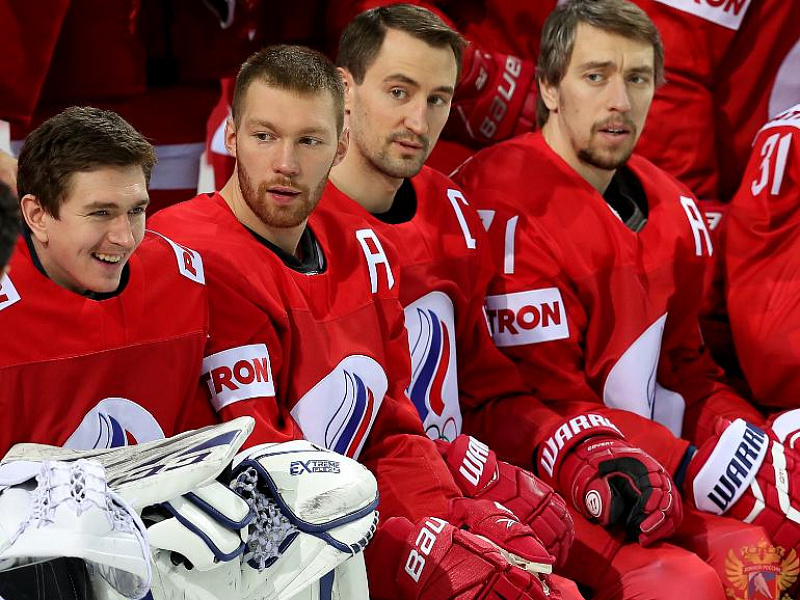 The senior national team participated in a photo shoot for the 2021 IIHF World Championship in Riga, Latvia, before taking to the ice to train in these following lines:

Group 1

Goalkeepers: Samonov, Bocharov.
Whites: Zub, Zadorov - Barabanov, Shalunov, Okulov.
Blues: Gavrikov, Provorov - Slepyshev, Karnaukhov, Grigorenko.
Reds: Ozhiganov, Rafikov - Galimov, Morozov, Burdasov.
Blacks: Dronov, A. Marchenko - Shvets-Rogovoi, Kamenev, Voronkov.

Group 2

Goalkeepers: Bocharov, Fedotov.
Forwards: Tolchinsky, Timkin, Kuzmenko.

Forward Vasily Podkolzin is training in Riga in accordance with an individual training program.

17 (15 skaters and 2 goalkeepers) have been registered for the tournament. More players will be added to the registered squad ahead of tomorrow's match against the Czech Republic.

Forward Artyom Shvets-Rogovoi:

- We trained together on Zoom while we had to undergo a quarantine period, before subsequently taking to the ice. Everything is fine, however, the size of the ice here is bigger than what we are used to. Nevertheless, we're really looking forward to the competition, we have put in a lot of time and effort! The Czech Republic? It will be a different match than the game in the Euro Hockey Tour. We feel that our nation is supporting us.

Forward Vladislav Kamenev:

- We feel good here, the ice is a lot better than in the Czech Republic. Of course, the ice isn't perfect, but it is still better than the rink in Prague. I don't think that we need to compare the Euro Hockey Tour and the World Championship, they are completely different tournaments. In comparison to the recent game with the Czechs, this time I'm sure that it will be an exciting match. My parents were really happy for me when I was named in the squad for the competition, everyone dreams of playing at such a big tournament. We will do everything in order to win!

Defenseman Rushan Rafikov:

- Naturally, the pandemic has taken its toll both physically and mentally, but this is a major event for us. The facilities here are of the highest level, there isn't anything to complain about! This season, we have a lot of debutants in our team, so there will be some nerves before the first match. After the first few shifts, though, I think that we will lose our tension and go on to show the ice hockey which we are capable of displaying. This is my first World Championship, so my relatives were happy for me when I got the call. We need the support of all of our fans to win!

Forward Evgeny Timkin:

- Our servicemen have done a good job of making us feel like home inside the dressing room, our logo is there. It's easy to breathe on the ice here, but the size of the rink is something which we are having to get used to. Apart from that, everything is fine. Taking into account that this is my first World Championship, I have a lot of emotions for this competition, we have a great team! I played in one line with Vladislav Kamenev and Artyom Shvets-Rogovoi during the KHL Gagarin Cup playoffs, we have good chemistry and understand what passes to make to each other. My injury which I received in the concluding Euro Hockey Tour match? Thankfully, I don't feel any pain now. We can feel the support of our loved ones and the entire country, we know that a lot of supporters would have come to Riga for the tournament in normal circumstances. We will try to meet their expectations!