ALL NEWS
2021 World U18 Championship. Canada - Russia - 5:3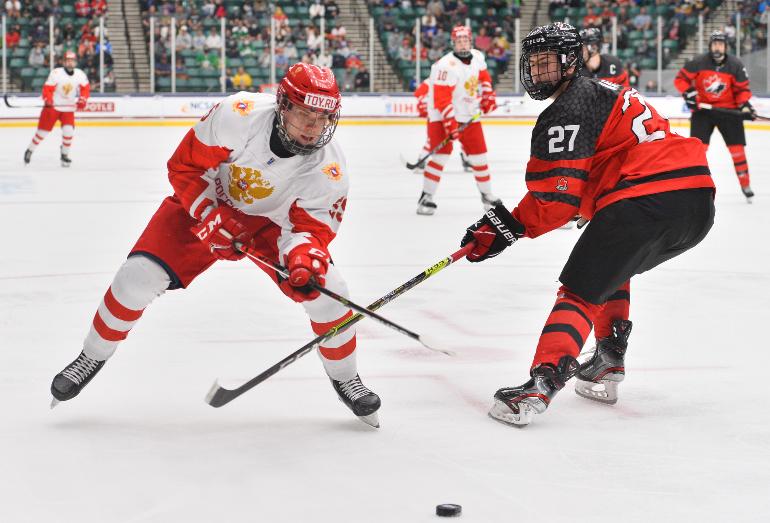 In the grand final of the 2021 IIHF World U18 Championship, the under 18 Russian national team came up short against Canada in the USA, conceding a narrow 3:5 defeat.

During an entertaining first period of play, Matvei Michkov and Dmitry Buchelnikov twice gave Russia the advantage, but Canada twice - once on the powerplay - managed to get back on level terms.

The Canadians subsequently tallied two unanswered markers in the second stanza to open up a two-goal lead.

Vladimir Grudinin did halve the deficit for Russia with a little over half of the third frame remaining. However, after Russian goalkeeper Sergei Ivanov was pulled for the extra skater, Canada hit the empty net in the closing minute to seal their deal.

Russia will travel home with their second successive silver medal at the competition, following in the footsteps of 2019's second-placed finish in Sweden.

Match protocol:

Canada U18 - Russia U18 - 5:3 (2:2, 2:0, 1:1)

Goals:

0:1 Michkov (Lazutin, Poltapov), 05.13
1:1 Bedard (Ceulemans, Stillman), 15.59
1:2 Buchelnikov (Michkov, Figurin), 18.05
2:2 Wright (Zellweger), 19.15
3:2 Othmann (Del Mastro), 24.42
4:2 Stankoven (Clarke, Wright), 36.39
4:3 Grudinin (Michkov), 49.37
5:3 Wright (Bedard), 59.20

Goalkeepers: Gaudreau - Ivanov

Shots on target: 34 - 34

Faceoffs: 34 - 29

Penalty minutes: 10 - 6

06.05.2021.