ALL NEWS
Reaction after beating the Czech Republic at the World U18 Championship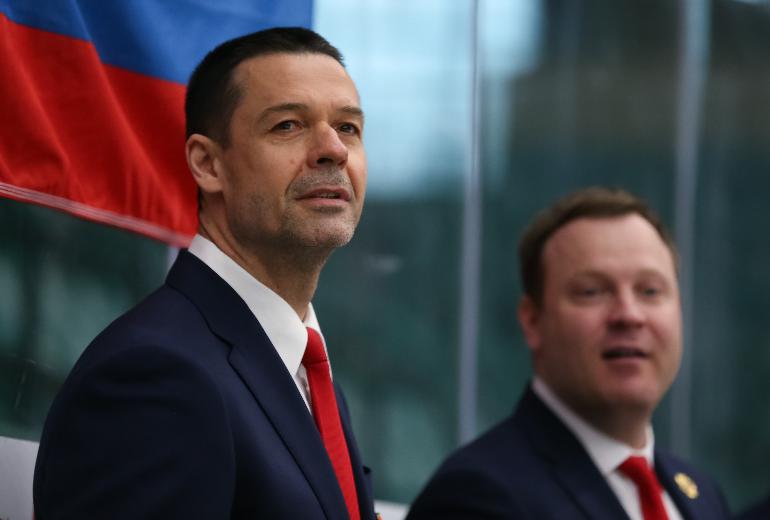 Following the comfortable 11:1 victory against the Czech Republic in the group stage of the 2021 IIHF World U18 Championship, under 18 Russian national team head coach Albert Leshchyov, defenseman Arseniy Koromyslov and forward Prokhor Poltapov all shared their emotions:

Head coach Albert Leshchyov:

- I want to congratulate our guys with the victory. It was a physical match, but we kept our composure and played in accordance with our game plan. Discipline is the most important aspect for us. What will I say to the players before the quarter-final? First of all, we need to analyse this match before subsequently discussing our plan for the next phase of the competition.

Defenseman Arseniy Koromyslov:

- We're gaining confidence with every passing match. Matvei Michkov? I also play with him for SKA Saint Petersburg, he is a great player who is performing at a high level. Our opponents for the quarter-final? It doesn't matter who we will play against, we simply need to win and progress to the next round. We'll analyse our mistakes.

Forward Prokhor Poltapov:

- We played well as a team today, we didn't take many penalties and we stuck to the game plan. My goals? The main thing is that we won. Just like all of the teams here, the Czechs are an organised side, we did not have a special mindset for the match. The coaches told us not to respond to their rough play.