ALL NEWS
Reaction after beating Germany at the 2021 World U18 Championship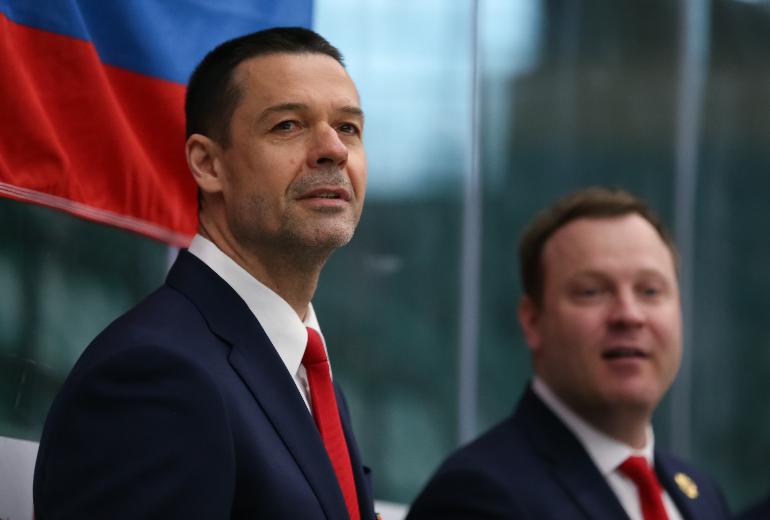 Following the emphatic 6:1 victory against Germany in the third match of the 2021 IIHF World U18 Championship group stage in the USA, under 18 Russian national team head coach Albert Leshchyov and forwards Matvei Michkov and Fyodor Svechkov shared their emotions:

Head coach Albert Leshchyov:

- The guys followed the game plan today. Ahead of this match, we had analysed the mistakes which were committed in the duel with Finland, and today we made less errors. Matvei Michkov? He is improving with every passing game, I congratulated him with his four goals. Nevertheless, his success is also down to the efforts of his teammates, they are giving him great looks at the net. We will now look back at our performance in preparation for the Czech Republic.

Forward Matvei Michkov:

- The main thing is that the team won, no one looks at who scored the goals. The result is always our priority. The upcoming matches will be more difficult, though, so we have to prepare for them in the correct manner. Ilya Kovalchuk and Valeri Kharlamov also wore the number 17 in the past? They are great players who have achieved a lot in the game, it's an honour to wear their number.

Forward Fyodor Svechkov:

- My thoughts when I saw the lacrosse goal which Matvei Michkov scored? That I woudn't be able to do that myself! We now have to prepare to take on the Czechs, they have a good team. We'll be ready.