ALL NEWS
Reaction after playing Finland at the 2021 World U18 Championship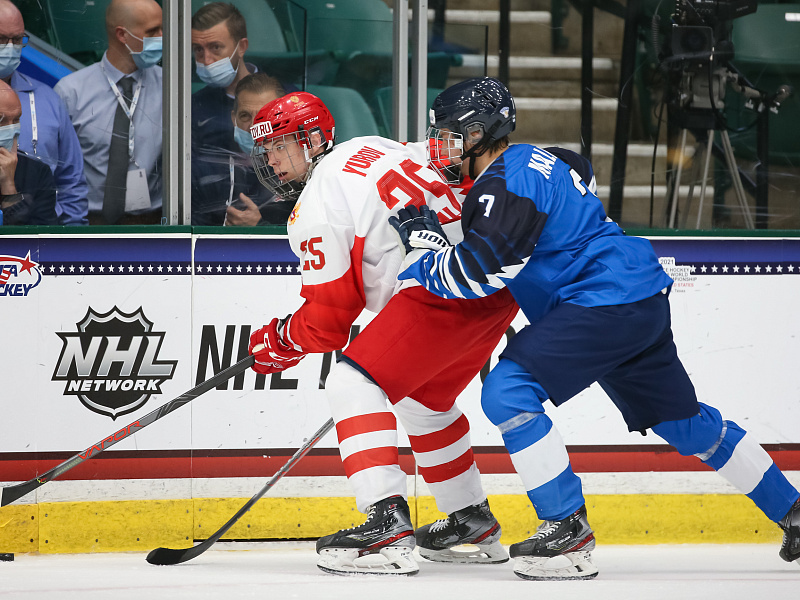 Following the 3:4 penalty shootout loss to Finland in the second match of the 2021 IIHF World U18 Championship in the USA, under 18 Russian national team head coach Albert Leshchyov and forwards Ivan Miroshnichenko and Danila Yurov shared their emotions:

Head coach Albert Leshchyov:

- In comparison to the first match against the USA, today's game wasn't as emotional. Our players found it tough after such a short break between the matches, but I would like to thank them for their efforts. We made a few changes to our approach after analysing Finland's tactics. Our goalkeepers? We had always planned for Kirill Gerasimyuk to start the first game and for Sergei Ivanov to compete in the second. I don't think that the long break for the injured Finnish player had a bearing on the result, these things happen in ice hockey. The referees? I never comment on them.

Forward Ivan Miroshnichenko:

- We had the match under control, but then we lost the initiative in the third period. Nevertheless, we will make improvements to our game, we didn't play well when the Finns swapped their goalkeeper for the extra skater in the closing stages. The game against the Americans took its toll, we didn't have enough energy in the decisive phase of the match. Our penalties in overtime? No one wanted to put the team in a bad situation. We will try to play better in the upcoming matches.

Forward Danila Yurov:

- The fact that I have experience of playing in the KHL doesn't hold any meaning here, that was a long time ago. Our goaltender Sergei Ivanov was excellent in our net, he made big saves. Unfortunately, we let him down. The incident involving the Finnish player? I don't think that the lengthy break was the turning point, we continued to play in the same manner. We needed to keep our focus.