ALL NEWS
Reaction after beating Belarus in the first Euro Hockey Challenge match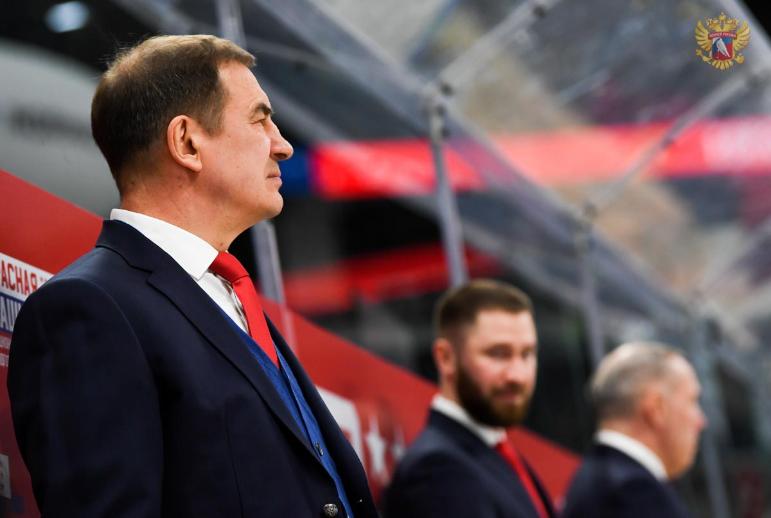 Following the 6:3 victory against Belarus in Moscow in the first of two planned 2020/2021 Euro Hockey Challenge matches, head coach of the senior Russian national team Valeri Bragin and forwards Vadim Shipachyov, Yegor Korshkov, Anton Burdasov and Andrei Kuzmenko shared their emotions.

Head coach Valeri Bragin:

- Some of the guys hadn't trained for a long time, so we needed time to settle into proceedings. We're happy with the second period, we performed well. We lost concentration in the closing stages of the third frame.

- What information did you receive from this match?

- We are looking at all of our candidates. We have one more match here, before we play in Switzerland and then the Czech Republic. All of the guys understand that every game is important. The strongest players will travel to the World Championship.

- It seemed that the performance in the third period wasn't good.

- We had opportunities to score, but we didn't take advantage of them. We conceded goals in the closing stages after taking penalties, the players lost their concentration. Alexander Samonov? He hadn't played for a long time.

- Will the team be different tomorrow?

- Yes. We have a lot of young players who we want to see on the ice.

Forward Vadim Shipachyov:

- We had a lot of desire and emotions at the start of the game. However, we haven't gained optimal physical shape yet. We needed to win, all of us know that we have to earn the victory in every match. The young guys were great.

- Why were all three periods so different?

- We warmed into the match during the first period, we hadn't skated in the morning. It's tough to start playing again after a long period without games. We played at our level during the second stanza, but we lost concentration in the third.

- Have you built up mutual understanding with Anton Burdasov?

- Both Anton and Andrei Kuzmenko have great shots, my job is the same as it is at club level. Hopefully, we will use more of our chances to score in future games. Our mutual understanding will improve.

Forward Yegor Korshkov:

- I think that it was a coincidence that both of my goals were scored on the crease today, and they were registered in different styles. As a consequence of having not played for a long time, it wasn't easy in the first period, but we started to compete in a more aggressive manner in the second.

- Did you manage to recover after playing against CSKA Moscow in the KHL Gagarin Cup playoffs second round?

- Yes, I am playing for the national team with new energy and emotions.

- There is high competition within the national team, and only the KHL players are here at the moment.

- Competition is not a bad thing. Instead, it forces you to improve and prove why you are good enough to play at the World Championship.

Forward Anton Burdasov:

- It was difficult for us in the first period. There was subsequently an improvement in our game, but there were passing mistakes. The guys hadn't trained for a long time after the KHL playoffs, we've only been training all together with the national team for three days. The main thing is that we managed to win the match.

- You were put in one line with Vadim Shipachyov.

- Vadim is a true master of the game, he is capable of dishing out fantastic passes. We remember how we used to play together at club level with SKA Saint Petersburg. I understand how he likes to play, I will be happy to continue playing in one line with him.

- Why did Russia lose their concentration in the closing stages?

- As the coaches said, there were plenty of warning signs there for us to sense. You cannot take silly penalties out of nothing. Yes, we killed the first penalty, but we conceded after committing the second foul. We need to improve our physical shape too.

Forward Andrei Kuzmenko:

- As a result of our current physical shape, we struggled to get into the match during the first period. In the second stanza, however, we played as we are expected to. We took our foot off the gas in the third, and we know that we can't afford to do that anymore.

- Speak about your goal in the second period.

- Before that goal, I had made bad decisions with the puck after receiving good passes from Anton and Vadim. I was criticised by the coaches for that, they told me that I need to start shooting the puck more often. It's good that I scored with that shot.

- You had quite a few clear opportunities during the match.

- It's been a dream to play for the national team since childhood, I always want to be useful and show my capability when on the ice for Russia. However, we're not in optimal shape yet.