ALL NEWS
Euro Hockey Challenge. Russia - Belarus - 6:3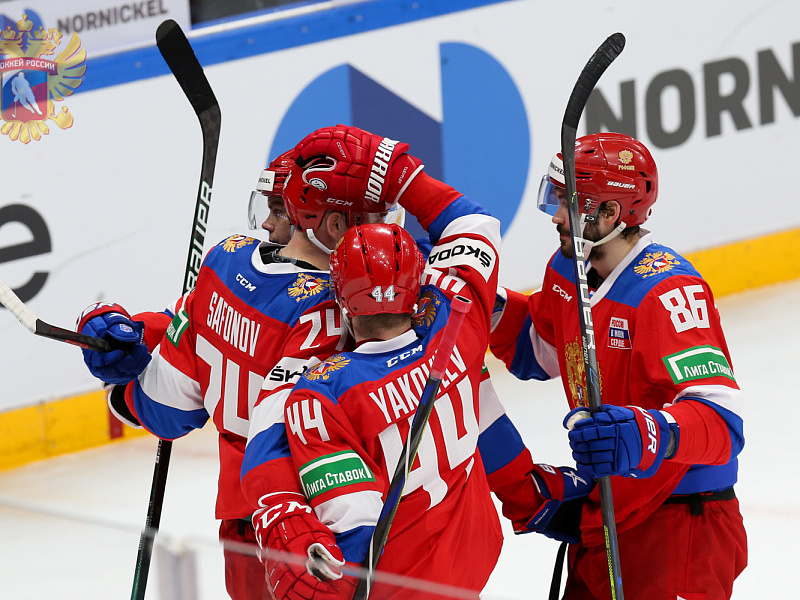 In the first of two scheduled 2020/2021 Euro Hockey Challenge matches between the two nations, the senior Russian national team managed to defeat Belarus at the VTB Arena in Moscow, beating the visitors 6:3 in an entertaining duel.
The two teams required a lot of time to settle into proceedings in the first period. With the players not competing at an overly fast pace, very few realistic chances were witnessed in the opening stages, but Russia did begin to increase their intensity towards the end of the frame. Andrei Kuzmenko was denied by Belarusian goaltender Danny Taylor when completely clean through, before Yegor Korshkov and Anton Burdasov came close from the right flank on the powerplay.
Emil Galimov's line with Ilya Safonov and Kirill Marchenko was particularly threatening, with the former notably twice testing Taylor when pulling sharply to the crease from the two flanks.
The second period saw Russia burst into life.
Vladislav Kamenev opened the scoring in the 23rd minute, as his pass towards Evgeny Timkin was inadvertently deflected under Taylor's pads by a Belarusian defenseman.
All of a sudden, the Belarusians contrived to fall apart, as Yegor Korshkov tipped Pavel Kraskovsky's pass into the right corner and Ilya Safonov neatly grabbed our third after powering past the opposing defence.
In the 32nd minute, Francis Pare did get Belarus on the board following a sloppy mistake behind Alexander Samonov's net, but that unexpected goal only succeeded in sparking a powerful response from Russia.
Andrei Kuzmenko whipped an unstoppable wrister over Taylor's glove less than two minutes later to reinstate the three-goal advantage.
Russia weren't satisfied, though, and Burdasov hit the jackpot with a trademark one-timer and Korshkov slid the puck under the goalkeeper when clean through. Those two goals were scored on an extended powerplay after Belarusian defenseman Andrei Antonov had been punished with a 2+2 penalty for high-sticking.
Belarus did then make the decision to swap the forlorn Taylor in their net in favour of Konstantin Shostak.
To their credit, Belarus made a vast improvement in the third period, and Shane Prince had a goal ruled out for offside after he had caught Samonov cold when going for a sneaky wraparound.
Nevertheless, that didn't deter the Belarusians, with their legitimate second goal arriving moments later as Dmitry Korobov's hopeful effort fooled Samonov thanks to a wicked ricochet.
Moreover, Belarus even grabbed a third goal in the final minute of play after pulling Shostak for the extra skater, with German Nesterov tipping in. That marker was registered on the powerplay.
The Russian Olympic team will face Belarus tomorrow at the same venue in the Russian capital. Puck-drop is scheduled for 14:00 local time.
Match protocol:
Russia - Belarus - 6:3 (0:0, 6:1, 0:2)
Goals:
1:0 Kamenev (Lyamkin, Podkolzin), 22.15
2:0 Korshkov (Tsitsyura, Kraskovsky), 26.13
3:0 Safonov (Galimov, K. Marchenko), 26.53
3:1 Pare, 32.25
4:1 Kuzmenko (Yakovlev), 33.52
5:1 Burdasov (Shipachyov, Kraskovsky), 35.37
6:1 Korshkov (Safonov, K. Marchenko), 35.55
6:2 Korobov (Solovyov), 55.15
6:3 Nesterov (Pare, Falkovsky), 59.26
Goalkeepers: Samonov - Taylor/Shostak
Shots on target: 35 - 13
Faceoffs: 36 - 25
Hits: 6 - 11
Penalty minutes: 4 - 8
Referees: Morozov, Fateev
23.04.2021. VTB Arena, Moscow.