ALL NEWS
Euro Hockey Challenge. Russia - Belarus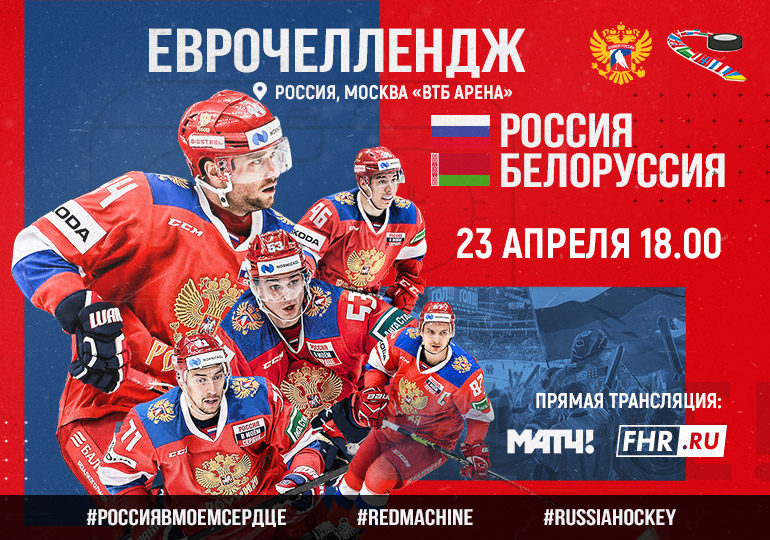 Today, at the VTB Arena in Moscow, the senior Russian national team will face Belarus in the first of two scheduled 2020/2021 Euro Hockey Challenge matches.
These following players were initially called up by the management group:
Goalkeepers:
Ivan Bocharov (Dynamo Moscow), Alexander Samonov (SKA), Ivan Fedotov (Traktor).
Defensemen:
Viktor Antipin, Igor Ozhiganov, Dinar Khafizullin (all SKA), Yury Pautov, Daniil Pylenkov (both Vityaz), Andrei Sergeev (Dynamo Moscow), Alexei Marchenko, Rushan Rafikov (both Lokomotiv), Yegor Yakovlev, Grigory Dronov (both Metallurg Magnitogorsk).
Forwards:
Andrei Kuzmenko, Anton Burdasov, Kirill Marchenko, Ivan Morozov, Emil Galimov, Artyom Shvets-Rogovoi, Vladislav Kamenev, Evgeny Timkin, Vasily Podkolzin (all SKA), Zakhar Bardakov, Danila Moiseev (both Vityaz), Vadim Shipachyov (Dynamo Moscow), Pavel Kraskovsky, Nikolai Kovalenko, Yegor Korshkov, Georgy Ivanov (all Lokomotiv).
Puck-drop in the Russian capital is scheduled for 18:00 local time. Match TV will provide a live television broadcast in Russia, whereas you can follow text updates in English on our
official Twitter account
.