ALL NEWS
Euro Hockey Tour. Russia - Finland - 3:2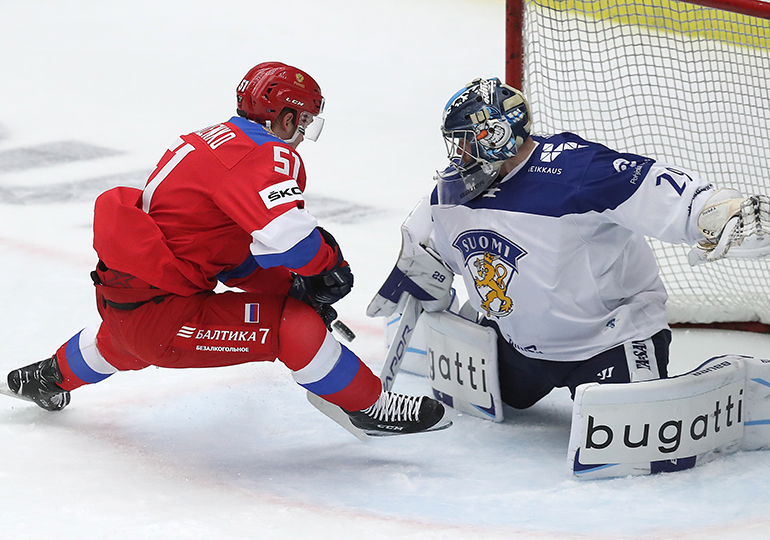 In the first match of the third stage of the Euro Hockey Tour, the senior Russian national team emerged victorious against Finland in Malmo, Sweden, claiming a narrow 3:2 win.

Excellent markers from Artyom Minulin and Ivan Chekhovich opened up a commanding two-goal lead for Russia in the first period. In the second, Finland did claw one back after a mistake in the attacking zone, but Vladimir Butuzov subsequently grabbed a third for our team when converting a one-on-one chance.

During the closing stages, the Finns halved the deficit again after pulling goalkeper Harri Sateri for the extra skater, but it made little difference to the outcome as Russia held on.

Goaltender Alexander Samonov made 20 saves in the Russian net.

Russia will now prepare to face hosts Sweden on Saturday. Puck-drop is scheduled for 18:00 Moscow time.

Match protocol:

Russia - Finland - 3:2 (2:0, 0:1, 1:1)

Goals:

1:0 Minulin (Chekhovich, Zhafyarov), 13.31
2:0 Chekhovich (Zhafyarov, Zborovsky), 16.06
2:1 Innala (Ojamaki), 33.52
3:1 Butuzov (Kovalenko), 42.37
3:2 Puustinen (Leino, Karjalainen), 59.38

Goalkeepers: Samonov - Sateri

Shots on target: 16 - 22

Penalty minutes: 8 - 2

11.02.2021.