ALL NEWS
2021 World Junior Championship. Semi-final. Canada U20 - Russia U20 - 5:0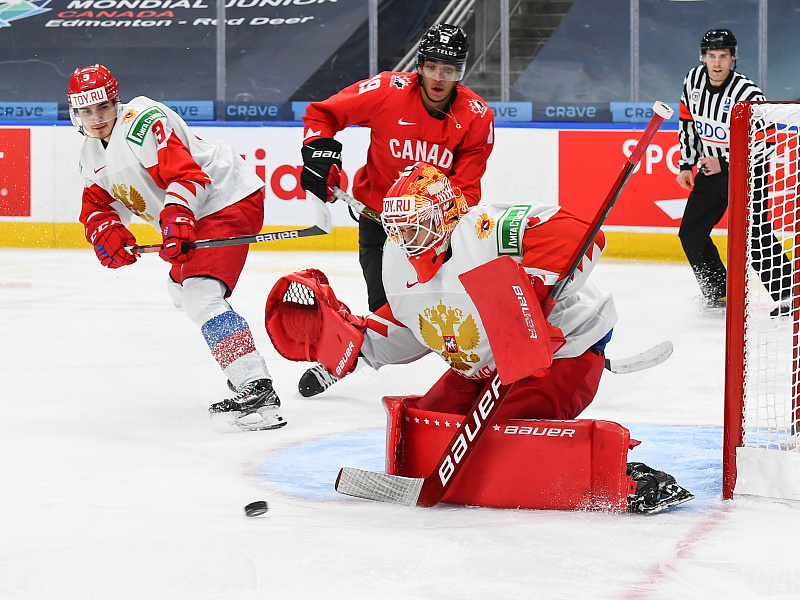 In the semi-finals of the 2021 IIHF World Junior Championship in Edmonton, the junior Russian national team suffered a heavy defeat against tournament hosts Canada, going down 0:5.

The Canadians came flying out of the blocks as Alex Newhook and Connor McMichael quickly gave the home team a 2:0 advantage from close range within the opening 11 minutes. Just to make matters worse, Vasily Podkolzin then earned a double minor for high sticking for Russia, with Cole Perfetti promptly wristing a low effort under Yaroslav Askarov's glove to put Canada three to the good.

Braden Schneider tallied a fourth for Canada in the fifth minute of the second stanza with a whipped effort after Askarov had lost control of his stick.

Unfortunately, Russia couldn't conjure up a response as Canada calmly controlled proceedings with their aggressive play, and Dylan Cozens iced it in the third with an empty-netter with Askarov having been pulled for the extra skater.

Russia will now prepare to face Finland in the bronze medal playoff at 01:30 Moscow time on January 6.

Match protocol:

Canada U20 - Russia U20 - 5:0 (3:0, 1:0, 1:0)

Goals:

1:0 Newhook (Schneider, Quinn), 00.59

2:0 McMichael (Pelletier, Cozens), 10.33

3:0 Perfetti (Byram, Cozens), 15.05

4:0 Schneider (Suzuki, Mercer), 24.09

5:0 Cozens (Pelletier), 58.31

Goalkeepers: Levi - Askarov

Shots on target: 35 - 28

Faceoffs: 25 - 28

Penalty minutes: 4 - 8

04.01.2021.