ALL NEWS
Interviews before facing Canada at the 2021 World Junior Championship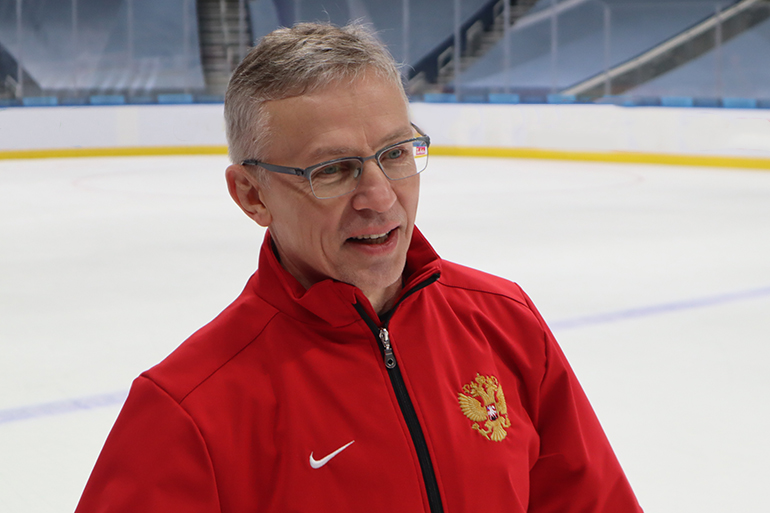 Ahead of the upcoming 2021 IIHF World Junior Championship semi-final against Canada in Edmonton, junior Russian national team head coach Igor Larionov, defenseman Artemiy Knyazev and forwards Yegor Chinakhov and Mikhail Abramov all shared their expectations:

Russia U20 head coach Igor Larionov:

- Legends are born in matches between Russia and Canada, players who make the difference in the most important games. Everyone understands the importance of this semi-final. We have a really strong team, but in order to win, we need to keep control of our emotions, play with intelligence, compete without panic in defence and protect possession. Yes, there is pressure, but the majority of it is on Canada as they're the home team.

These guys are playing for their parents. They know what to do.

Russia U20 defenseman Artemiy Knyazev:

- We analysed the video footage, looked at our mistakes in previous matches and trained well. We will be punished for any mistake we make. The low-scoring quarter-final ties? Tomorrow the teams will both aim to play their best ice hockey. We will give everything we've got!

Russia U20 forward Yegor Chinakhov:

- I feel great, the latest training session proved that I'm ready. It will be a true fight against Canada tomorrow! As we know, every game with the Canadians is tough, and we really want to beat them after losing to these opponents 0:1 in a friendly match ahead of this competition. The team which is the most solid in defence and makes use of the mistakes made by the opposing side will emerge victorious.

Russia U20 forward Mikhail Abramov:

- I'm ready to return and help the team! Of course, we have plenty of motivation against Canada, they have a very aggressive team which competes well in defence. We've had a lot of penalties throughout the tournament so far, but this has to change. We will fight for the victory on the ice.