ALL NEWS
The Russian national team held a training session in Helsinki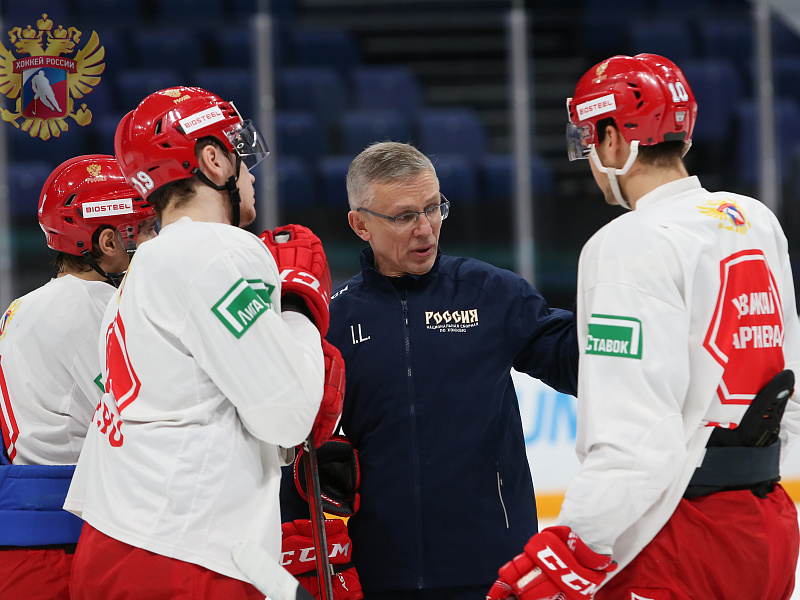 The senior Russian national team held a training session in Helsinki, Finland, ahead of the Karjala Cup which is the opening stage of the 2020/2021 Euro Hockey Tour.

The players trained in these following lines:

Goalkeepers: Askarov, Akhtyamov, Zherenko;
Whites: Chayka, Sedov - Afanasyev, Khusnutdinov, Podkolzin;
Blues: Mukhamadullin, Chistyakov - Groshev, Safonov, Chinakhov;
Reds: Kirsanov, Shekhovtsov - Gritsyuk, Bashkirov, Amirov;
Greens: Kuzmin, Bychkov - Spiridonov, Bardakov, Apalykin;
Oranges: Mingachyov, Kostenko - Beryozkin, Zlodeev.

Interim head coach of the senior Russian national team Igor Larionov:

- This is a new situation for everyone here with us in Finland. Never mind, though, we successfully passed the testing system upon arrival in Helsinki. At today's training session, we worked on coping with pressure, special teams and passing quickly. We're planning to register seven defensemen and 13 forwards. We want to compete in a fast, aggressive manner, while playing calmly in defence and protecting the puck. All of the guys know what to do with possession.

- Who will be the starting goalkeeper?

- We will start with Yaroslav Askarov. He's already an experienced player, he played really well last season and has started this one solidly too. All three goaltenders are ready to play. Who will be the assistant captains to Vasily Podkolzin? We'll decide that tomorrow. This competition is a dress rehersal ahead of the World Junior Championship in Canada, we're prepared to face the new reality which we have. Our guys are true professionals and understand how to act.

- What do you make of the facilities here?

- The hotel is nice and the food is good too. All of the facilities which are required for ice hockey are here, the dressing room inside the Hartwall Arena is fantastic. Our thoughts are focused on playing excellently. Our aim is to control the puck, make fast, accurate passes and press the opponents across the ice. This is an opportunity for the guys to display their capabilities.