ALL NEWS
Possibilities for developing adaptable ice hockey were discussed in Moscow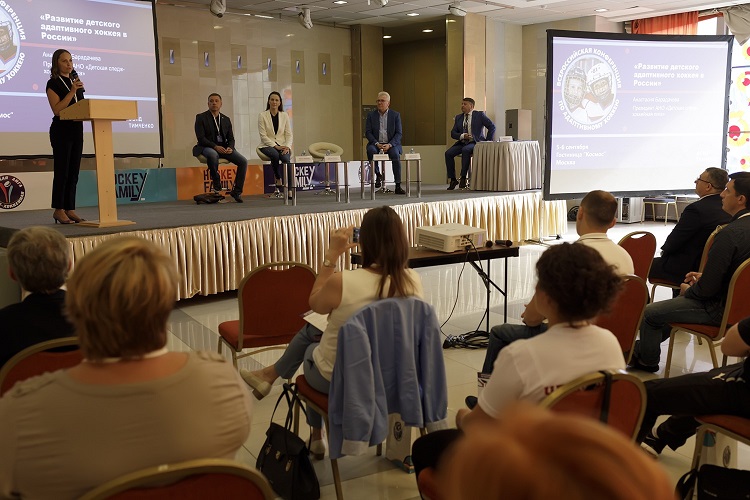 Possibilities for developing adaptableice hockey were discussed at an All-Russian Conference in Moscow on the fifth and sixth of September. The event, organised by the Elena and Gennady Timchenko Foundation, focused on the physical rehabilitation of disabled children through participation in sport. More than 100 people from 30 regions of Russia participated in the conference, sharing professional experiences and discussing future plans.

The development of youth sport in the country, including sledge hockey, is one of the priorities of the Russian Ice Hockey Federation (RIHF). The main partner of the RIHF in this regard is the Children's Sledge Hockey League. At the moment, 25 teams compete in the league, representing 16 Russian regions. Two of them are for the visually impaired and one for children with down syndrome and autism. More than 200 children play in the Sledge Hockey League.

The International Paralympic Committee, the American Ice Hockey Federation, Cruisers Sport Canada, Sisu Team Finland, the Australian Ice Hockey Federation, the Japanese Sledge Hockey Association, the International Blind Hockey Federation, the Czech Parahockey Federation and the Slovakian Parahockey Federation all supported the conference.

RIHF president Vladislav Tretiak:

- Both the RIHF and the Youth Sledge Hockey League are both supporting and developing adaptable ice hockey in Russia. It's very important to develop this field and create the necessary facilities for the staging of competitions. The Red Machine National Development Program contains a section concerning sledge hockey, information which we hope will be useful.

Youth Sledge Hockey League president Anastasia Baradacheva:

- Senior athletes will assist the learning process, they can share their knowledge of the sport with the children. They will travel to different regions to speak to the guys. By doing this, we can link generations together.