ALL NEWS
The "League of Helping Sporting Veterans" has been set up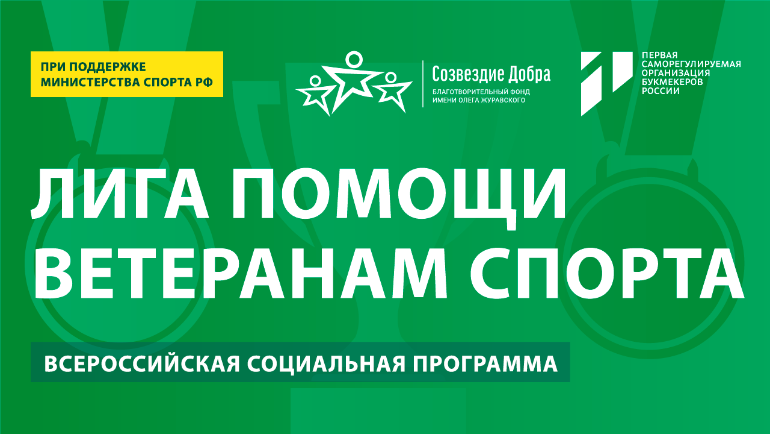 The all-Russian "League of Helping Sporting Veterans" social program has been set up by the Constellation of Good Foundation.

The program has been organised under the auspices of the Ministry of Sport of the Russian Federation. It's aimed at helping sporting veterans who are currently self-isolating, with elderly citizens at risk of catching the coronavirus as soon as they leave their respective homes. At the same time, many of them are living alone, and they require attention and moral support. Starting from May, volunteers of the Constellation of Good Foundation have been taking baskets full of healthy food to veterans twice a month.

The activities started on May 20 in Moscow. In the near future, the project will also begin in Saint Petersburg, Bryansk, Rostov and other Russian cities.

The program is the continuation of the large-scale "Operator of Good" social program which brought together members of the sporting and bookmaking industry in Russia in the fight against the spread of COVID-19. A total of eight million rubles has been raised for medical institutions in 12 Russian regions.

Olga Zhuravskaya, founder of the Constellation of Good Foundation and first vice-president of Liga Stavok:

- The fact that we want to help sporting veterans hasn't arisen purely because of the pandemic. Supporting national sport is a part of the global strategy of our organisations. Those who are honoured USSR Masters of Sports, winners of domestic and international competitions and Olympic champions should receive assistance from us. The League of Help is a chance for us to say thank you to them for their contributions to the development of sport in our country. There is no future without history.

Yury Kraskovsky, head of the First SRO:

- The unification of large businesses in order to help the state and sport is one of our priorities today. On behalf of the bookmaking industry, I would like to thank the Russian Ministry of Sport for their cooperation and support of the "League of Helping Sporting Veterans" program.