ALL NEWS
Five Nations. Russia U18 - Sweden U18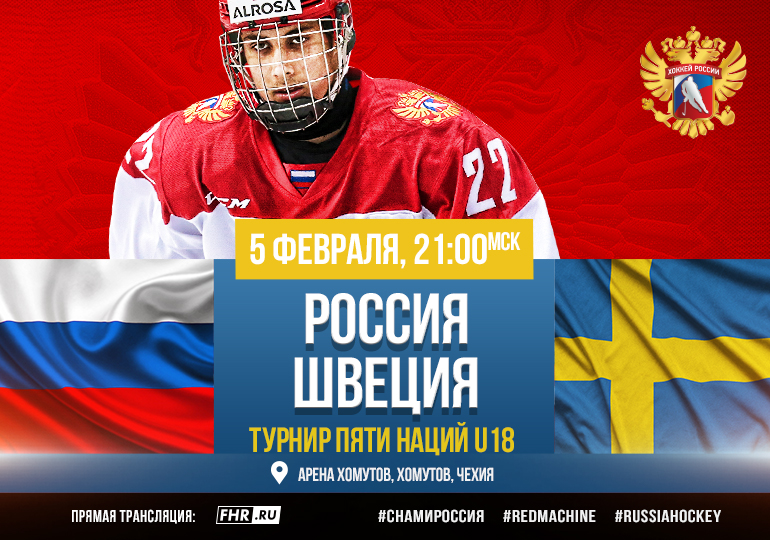 In the Czech Republic, the under 18 Russian national team will face Sweden in the opening match of the Five Nations.

These following players made the trip for the competition:

Goalkeepers: Yaroslav Askarov (SKA-1946), Yegor Guskov (Lokomotiv), Maxim Motorygin (Metallurg Magnitogorsk).

Defensemen: Artyom Grushnikov (Krasnaya Armiya), Alexei Egorov (Spartak Moscow), Filat Zotov (Russkie Vityazi), Kirill Kirsanov (SKA-1946), Dmitry Kostenko (Ladya), Roman Romanov (Lokomotiv), Shakhir Mukhamadullin (Tolpar).

Forwards: Danil Avershin (Spartak Moscow), Danil Aymurzin, Alexander Pashin (both Tolpar), Nikita Buruyanov, Ignat Kokhanin (both Dynamo Saint Petersburg), Dmitry Zlodeev, Bogdan Trineev, Daniil Lazutin (all Dynamo Moscow), Dmitry Zugan, Prokhor Poltapov (Krasnaya Armiya), Ilya Rychkov, Marat Khusnutdinov (both SKA-1946), Pavel Tyutnev (Loko).

Puck drop against Sweden is scheduled for 21:00 Moscow time.